City Index – A Recognized Name in the World of Trading
City Index
Summary
City Index offers its trading services to people all around the globe. The online provider has been around for a long time and a base in the UK automatically instills confidence in its operations and reputations. You can easily get access to more than 12,000 markets with different options in platforms and very competitive spreads.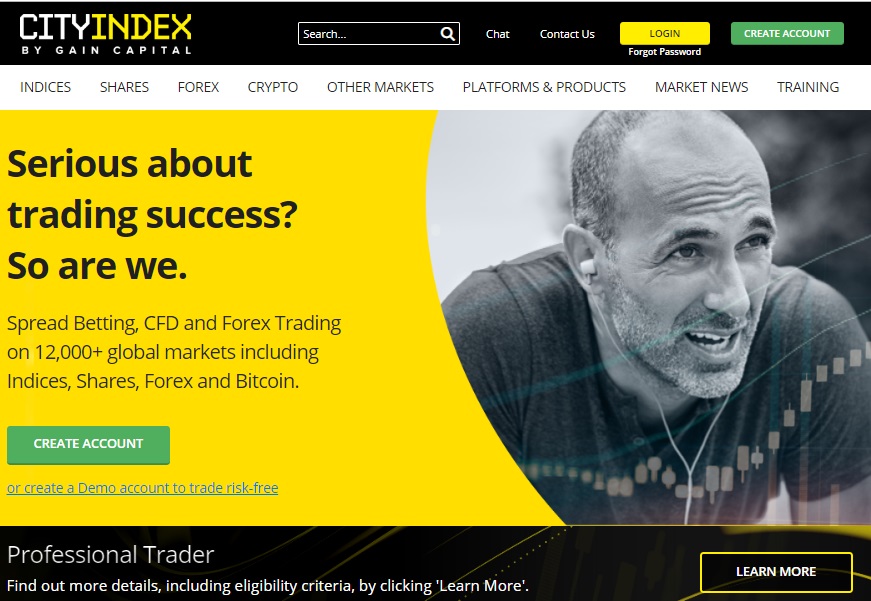 City Index Review
With more than 30 years of experience, City Index is a global provider for forex trading, cryptocurrency trading, spread betting and CFD trading. Based in London, this provider was first established in 1983 and has developed a reputation for delivering fast and reliable execution. With City Index, you can gain access to more than 12,000 markets, which include forex, shares, cryptocurrency, shares, commodities and indices. The purpose of City Index is to provide traders with tools that can be incredibly handy for improving their trading skills. They are committed to providing market-leading services with fair and transparent pricing as well as comprehensive customer support.
| | | | |
| --- | --- | --- | --- |
| ROBOT | RATING | PROPERTIES | TRADE |
| | #1 Software | 83% Win Rate$250 Min DepositAccepts Credit Card | TradeRead Review |
GAIN Capital Holdings Inc. is the parent company of City Index, which is listed on the New York Stock Exchange as GCAP. It is among the largest retail and institutional trading providers globally and was established in 1999. Furthermore, GAIN Capital has a strong track record of providing trading services to retail and institutional customers. Not only is it listed on NYSE, GAIN Capital is also regulated in eight different jurisdictions all over the world. It also meets the highest standards for financial reporting, disclose and corporate governance.
Regulations
City Index is regulated and authorized by the Financial Conduct Authority (FCA) in the UK, which means its client money rules are followed and they are kept segregated. Australian accounts are regulated by the Australian Securities and Investments Commission (ASIC). The Monetary Authority of Singapore (MAS) authorizes and regulates the accounts opened in Singapore.
Accounts
The offices of City Index are located in Singapore, Australia, UK and the Middle East and the accounts of each office are a tad different. Trader and Premium Trader Accounts are the only ones offered in Australia and Singapore whereas Professional Trader Accounts are also available in the Middle East and the UK. CFD trading is offered by all offices, but spread betting is only available for UK. EU and UK residents can open accounts with the Middle East, Australia or UK office.
Demo Account
City Index offers demo accounts for traders and they come with virtual money worth £10,000 and unlimited access is provided for 12 weeks. The duration for the demo account cannot be extended, but the platform does give you the option of applying for another one if you think you need more practice.
Premium Trader Account
This account type is only available through invitation and all active retail clients get a dedicated relationship manager and priority service through this account. Risk management is also provided on every trade along with competitive pricing and you also know that you will never lose more money than you have deposited. Exclusive content, seminars, webinars and hospitality events can be accessed by premium traders and they can also access some powerful research such as Faraday research, Reuters news and superior market intelligence. An active trader can be a premium trader if they maintain an account balance worth £10,000. Once you fulfill these requirements, you can either wait for the invitation or speed up the process by contacting City Index.
Professional Trader Accounts
This account can be made on City Index by experienced traders who qualify for it. You get a dedicated relationship manager, broker-assisted dealing and credit facility through this account and the margin rates are as low as 0.25 percent. However, you should remember that professional clients can have losses in excess of their deposits. The margin rates for professional traders are exceptional with 5 percent for crypto, 0.25 percent for major indices, 3 percent for shares and 0.5 percent for commodities. These minimum margin rates are 20 times better than the ones offered to retail clients.
Moreover, loyalty rewards are offered to professional traders on City Index like premier hospitality invitations and more. Thanks to the credit facility, traders can enjoy extra financial stability and they also enjoy priority service. You need to fill out an application form for becoming a professional trader and then wait for obtaining approval. You have to meet two of the three requirements to qualify for this account; maintain a financial instrument portfolio worth £500,000 or more, conduct at least 10 transactions of a significant size every quarter in the last four quarters or have at least a year of experience in the financial sector in a position that requires knowledge of trading leveraged instruments.
It should be noted that professional traders are provided access to some platforms and resources that regular and premium traders do not.
Trading Instruments
City Index provides you with access to more than 12,000 CFD and spread bet markets, which include shares, commodities, cryptocurrencies, forex and indices. However, the access to markets might also vary, depending on your location.
Leverage and Margin
Again, the office you have an account with will determine the minimum leverage and margin that you will have to pay through City Index. Retail clients who have accounts in the UK have a margin of 5 percent and a leverage for 20:1 for major indices, 50 percent margin and 2:1 leverage for cryptocurrencies, 20 percent margin and 5:1 leverage for shares, 5 percent margin and 20:1 leverage for commodities and 3.33 percent margin and 30:1 leverage for major FX. The rates vary for Australia, Singapore and Middle East offices.
Deposits and Withdrawals
A minimum deposit of £100 is recommended at City Index, which is enough for covering the margin of your first trade. You can add funds to your City Index account using Visa or MasterCard credit cards, debit cards from Visa, Maestro, MasterCard or Electron. Bank transfers can also be used. No charges are applicable when you are making a deposit to your City Index account, but credit card providers may have some charges of their own. You should bear in mind that funds can only be deposited in the same base currency as your source account and three cards can be linked to an account.
As far as withdrawals are concerned, they need to go back to the same source as the original funding. A minimum withdrawal limit of £50 or the full account balance, whichever is lesser, has been imposed on City Index. In the case of online withdrawals, you can withdraw a sum of £20,000 in a single transaction. The same amount can also be withdrawn online with credit cards in 24 hours. You can get in touch with client management if you wish to extend these limits. No fee is applicable on withdrawals.
Fees
Similar to many other brokers, City Index doesn't charge any commissions and chooses to make its profits via spreads. One appealing feature of City Index is that it is quite transparent about its charges in different markets and specific information is provided for each. There are both fixed and variable spreads. As far as currency conversions are concerned, City Index uses commercially reasonable rates, which are clearly disclosed on contract notes and statements. An inactivity fee is charged on a City Index account if it is not used for at least 12 months or more and this is about £12. If your cash balance is less, your entire cash balance will be deducted as inactivity fee.
Trading Platforms
City Index clients have the option of choosing between the applications for Android and iOS, Advantage Web, AT Pro and MetaTrader 4. The option of Web Trader is also given to clients in the UK. Web Trader comprises of reliable and fast HTML5 technology, advanced charts boasting custom indicators, intelligent tools and customizable workspaces. Advanced risk management options are also available as smarter trade tickets are available. The customizability of the platform includes the workspaces as multiple can be configured and personalized. You can switch between them with a single click, overlay multiple markets, trade via the charts and use precision drawing tools.
The City Index mobile apps are available for both iOS and Android devices and they can secure and 24-hour access to your accounts, a live economic calendar, charts, live streaming services and live Reuters newsfeed. The features of the two mobile platforms are similar, which include real-time notifications, intelligent trade tickets, price alerts and one-click dealing via the charts. There are personalized watch-lists and live in-app chat and you can seamlessly switch between your devices such as tablets and smartphones while trading.
A desktop platform called AT Pro is also available that appeals to advanced users who want access to the most powerful trading tools. It comprises of an advanced charting package, enhanced speed and efficiency and a variety of trading templates. You can also create your own trading template.
You also have the option of using the popular MetaTrader 4 as it has a very impressive variety of features and is available for iOS, Android and Windows. Its use has become widespread for forex as well as cryptocurrency trading because of its feature-rich and intuitive nature. It offers trading signals, support for Expert Advisors, professional charting and custom indicators.
Order Types
A range of order types is offered at City Index that can be used for preprograming the price that you wish to use for entering or exiting the market. Trades can be closed automatically with Stop loss orders and losses can be minimized when the market is moving in a direction against you. Limit orders can lead to a profit as trades are closed automatically at better prices than the ones currently available. You can enter the market at your chosen price level with Limit and Stop loss orders. One cancels another (OCO) orders enable you to set a Stop Loss and Limit order simultaneously, as one order is cancelled when the other is fulfilled.
There are guaranteed stop loss orders that cost you a small premium, but will guarantee you a specific level of execution. Trailing stops is designed to trail current market prices by a specific number of points, which lets you keep your losses at a minimum without restricting your potential gains. You can personalize your trade settings on City Index as per your trading style. One-click trading mode can be activated and you can easily move back and forth between one-click and two-click settings. The price tolerance for every instrument can also be adjusted and you can increase or decrease the acceptable slippage when there is a movement in the execution price.
Customer Support
If you are using the mobile applications of City Index for trading, you can start a live chat with customer support from within the app for your convenience. If you are using the website, there is a 'Contact Us' section that will take you to a page showing the phone number and address for customer support and also an email address and phone number for opening an account and further support. There is also a chat icon, a phone number and also a support email address on the bottom of every page of City Index's website.
Safety
As per the rules and guidelines set forth by the Financial Conduct Authority (FCA), client money is kept in segregated bank accounts by City Index. This means that the funds that belong to retail clients are kept in separate accounts from the funds of the company itself. This is applicable for every single City Index account, no matter where it is opened. It is also easy for you to stay on top of your finances and funding with free and safe deposits and withdrawals. There is a secure funding portal provided where you can view your funds and submit your withdrawals and deposits.
Conclusion
City Index offers its trading services to people all around the globe. The online provider has been around for a long time and a base in the UK automatically instills confidence in its operations and reputations. You can easily get access to more than 12,000 markets with different options in platforms and very competitive spreads. The website is also quite comprehensive and you can find a ton of trading tools right at your fingertips. Everything is intuitive, easy to use and well-designed and you can enjoy a smooth and seamless trading experience.
| | | | |
| --- | --- | --- | --- |
| ROBOT | RATING | PROPERTIES | TRADE |
| | #1 Software | 83% Win Rate$250 Min DepositAccepts Credit Card | TradeRead Review |