USD/JPY Bounces from Daily Low Point at 126.30 as Dollar Index Gains Strength on the Back of Gentle Market Tone

More Appeal for Safe-Haven Assets
It was quite a rocky beginning for the USD/JPY currency pair on Monday as it fell at the start of trading following its touching of a high point at 126.80. It was, however, quick to recover while there was a corresponding recovery in the US dollar index. Recent events and a wave of negative sentiments brooding over the market have caused the asset to have more appeal as a safe-haven commodity, and it stretched the same effect to the US dollar index equally got an increased round of demands.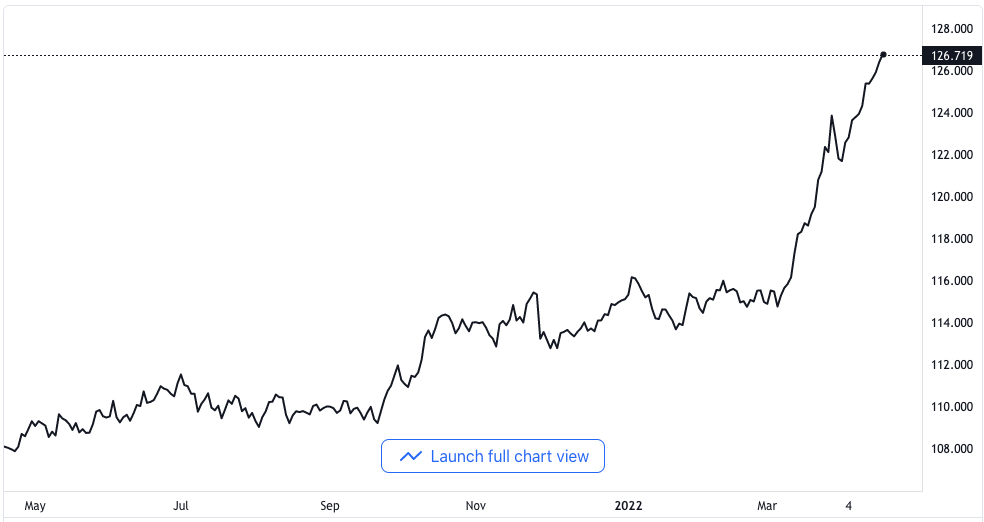 USD/JPY price chart. Source TradingView
The major is currently aiming towards a high point of twenty years at 132.38 in the midst of deeper weakness going on with the Japanese Yen.
The continuously increasing possibility of a 50 basis points increase in interest rates by the US Federal Reserve is acting as a favorable factor to bullish traders of the dollar. Exploding inflation rates and close participation in the US economy have priced in the 50 basis point rate as the appropriate rate that could be used to effectively fight the sporadic inflation and its attendant effects.
Much Ado About a Loose Policy
The speech expected from the Federal Reserve Chairman, Jerome Powell, later in the week is going to play a crucial role in the lead-off to the announcement of another interest rate increment in the month of May when the Reserve holds its next monetary policy meeting. Market players will be closely watching out for feeders from the Chairman's speech for clues on further directions as it is expected to give major guidance for market activities. 
Meanwhile, it looks like the loose monetary policy of the Bank of Japan is serving to put the Yen on the weak side of the aisle for a longer time. According to a Reuters report, the Bank of Japan is speculated to increase its forecast on inflation figures for the 2022 fiscal year to more than 1.5% from the present 1.1% it came up with during its meeting in the month of April. While at that, the bank is equally expected to bring down its growth forecast for the 2022 fiscal year away from the present 3.8% as expected.
Aside from the speech expected from Powell, investors will equally be looking forward to the annual industrial report from Japan, which might come in at 0.2% in tandem with the initial print of 0.2%