TemplerFX Review – A Little Over the Top and Unbelievable (Maybe a Scam)
TemplerFX Review
For someone who wants to generate some extra income through trading, they do not want to end up losing their money no matter how small an amount it is. If you are thinking about starting your trading career and want to make money to improve your financial conditions, make sure you spend some time researching the broker before signing up. Out of hundreds of online brokers, you have TemplerFX, claiming to be one of the best out there. Is this broker really the best one? Does it have all the ingredients that make it perfect?
Unfortunately, a lot of the things with this broker sound unrealistic and unbelievable. That's not just a hollow claim. Let's read more about the broker so you know the truth as well.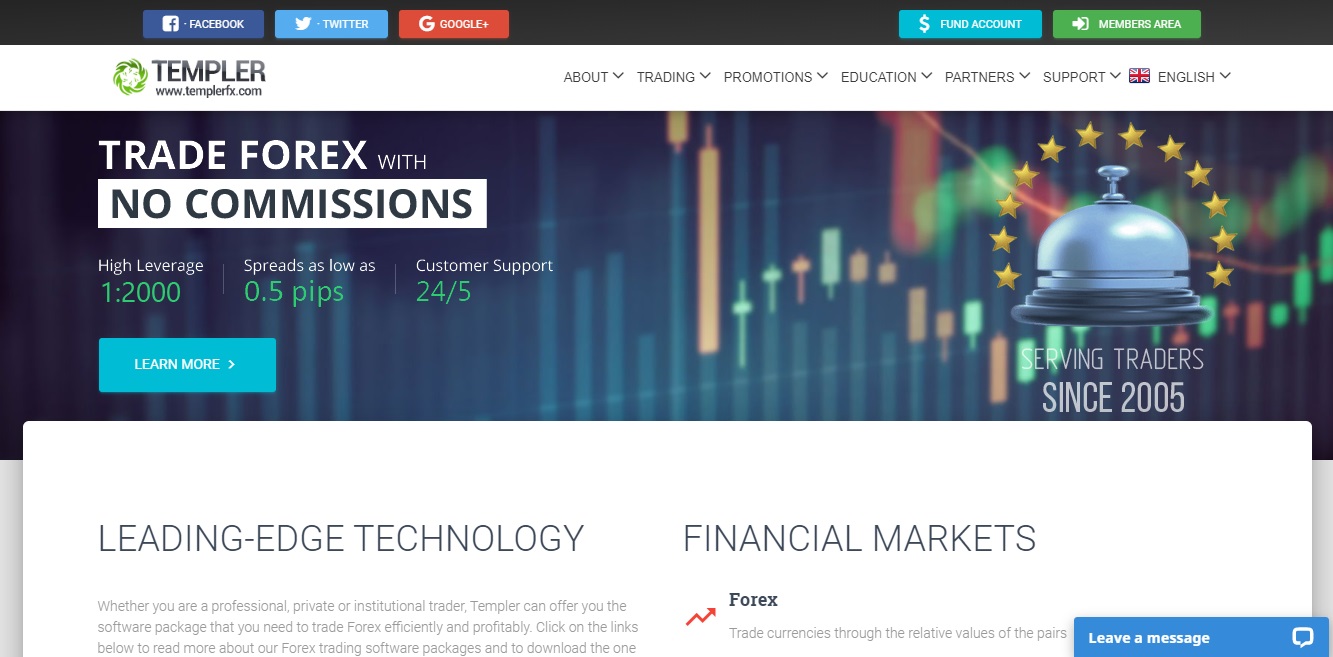 4 Downfalls of TemplerFX
1. The Trading Platforms
You might automatically start thinking that if a broker provides you with multiple trading platforms, then it is a good one. However, that's not the case at all. At times, this strategy can prove to be quite counterproductive. The idea of modern trading platforms is not just to be present everywhere. Instead, the more important factor that you will find common in them is the ease of use. They have to be easy for traders to use. However, when your trading platform is changing shapes and forms on different devices, you have to go through some learning curve every time you switch the device.
So, the broker has designed its own trading platform that contains just about everything that you want on your trading platform. This platform is available to you in the web form. In addition to that, you can use it not only on your Windows computer but Mac and Linux computers as well. What about when you want to use it on your smartphone? Well, that's where things start to fall apart. The broker has not designed its own application for smartphones. Whether you have an Android phone or an iPhone, you will be forced to use MetaTrader 4 on them. That anomaly is just hard to digest, as it mars the experience of trading.
2. No Cryptocurrencies
Any broker that claims to be an updated and modern broker deserves a negative point when it does not even offer its traders the modern opportunities in the financial markets. So, what's the latest in terms of investments and trading? Of course, there is nothing fresher and newer than cryptocurrencies. If you are a modern trader, you must be interested in trading digital assets. Even the smallest brokers that are stepping into the world of online brokerage understand the trend. They offer you cryptocurrency trading and provide you with all sorts of flexibilities so you can trade digital currencies with ease.
However, a regulated broker that claims to be one of the best does not have cryptocurrencies in its asset index. It is offering you energies and metals for trading. You can trade forex as much as you want, but you will not be able to trade cryptocurrencies in any shape or form no matter which account you open.
3. The Crazy Leverage
When it comes to using leverages while trading, you have to be extra careful. You are literally using a tool that can increase your profits or losses to a great deal. You can end up losing every penny that you have in your account if things go the way you do not expect them to. For this particular reason, the most experienced online brokers try to keep their leverages as realistic as possible. However, this is one particular area where this broker starts sounding too good to be true. You have leverages of up to 1:2000 available with this broker. Yes, you read that right.
How many other brokers offer you leverages like these? You will be hard pressed to find any that can even come close to this number. However, such a huge number is not good for traders, new or experienced. As a new trader, you can end your career before even starting it if things go awry. On the other hand, if you are an experienced trader, you can lose your life's savings with a wrong decision. Not to mention, leverage of this size sounds quite unbelievable. It also seems like a tactic to attract new traders to sign up on the broker's platform. Of course, new traders love to make huge profits, and they can do so with large leverages. The problem is, they usually do not understand the caveats associated with using such huge leverages.
4.  The Only Deposit Currency
There is nothing wrong with having USD on your website as the deposit currency for your traders. However, it does not matter how prevalent the US dollar is, there are other currencies that are used quite frequently around the world. For example, when you talk about traders from China, and many European countries, they like to trade in their local currencies. However, when you sign up with this broker, you only have one deposit currency to use, and that's the US dollar. That's the only currency you can deposit in your account, even if you have to spend a lot of money just converting your currency into USD.
That can be quite underwhelming. Online brokers provide their services to traders from all around the world. With that in mind, every broker should do its best to provide a lot of deposit currency options. Some currencies can lose a lot of value when you convert them to dollars. As a result, many traders from many parts of the world cannot even think of signing up with this broker only for this particular reason.
Final Thoughts
So, you can see that a lot of things about this broker sound a bit over the top. There are some good things as well, such as the fact that the broker is regulated. However, being regulated is not enough if you are not making the entire trading journey of your trader comfortable on your trading platform. So, if you are thinking about signing up with this broker, make sure you keep in mind the information stated above.  
Summary
Reviewer
Review Date
Reviewed Item
Author Rating