XTrade Review: Australian Forex Trading With Over AU$6k+ Available In Bonuses
XTrade Review
Xtrade is considered leading global forex and the financial institution, as well as a Contract For Difference broker. For over a decade the organization has been around serving traders from all parts of the globe. Customers can navigate a wide range of financial markets directly with Xtrade, including forex, cryptos, currencies, indices, commodities, CFDs, futures, and ETFs.
Cyprus has become one of the major Digital trading destinations and most Forex companies prefer to run their offices from there. The geographical location of Cyprus, somewhere between Asia and Europe (Cyprus belongs politically to Europe, but one might argue that it is geographically more inclined towards Asia) represents an attractive location for brokers who can simultaneously target both the European and Asian markets.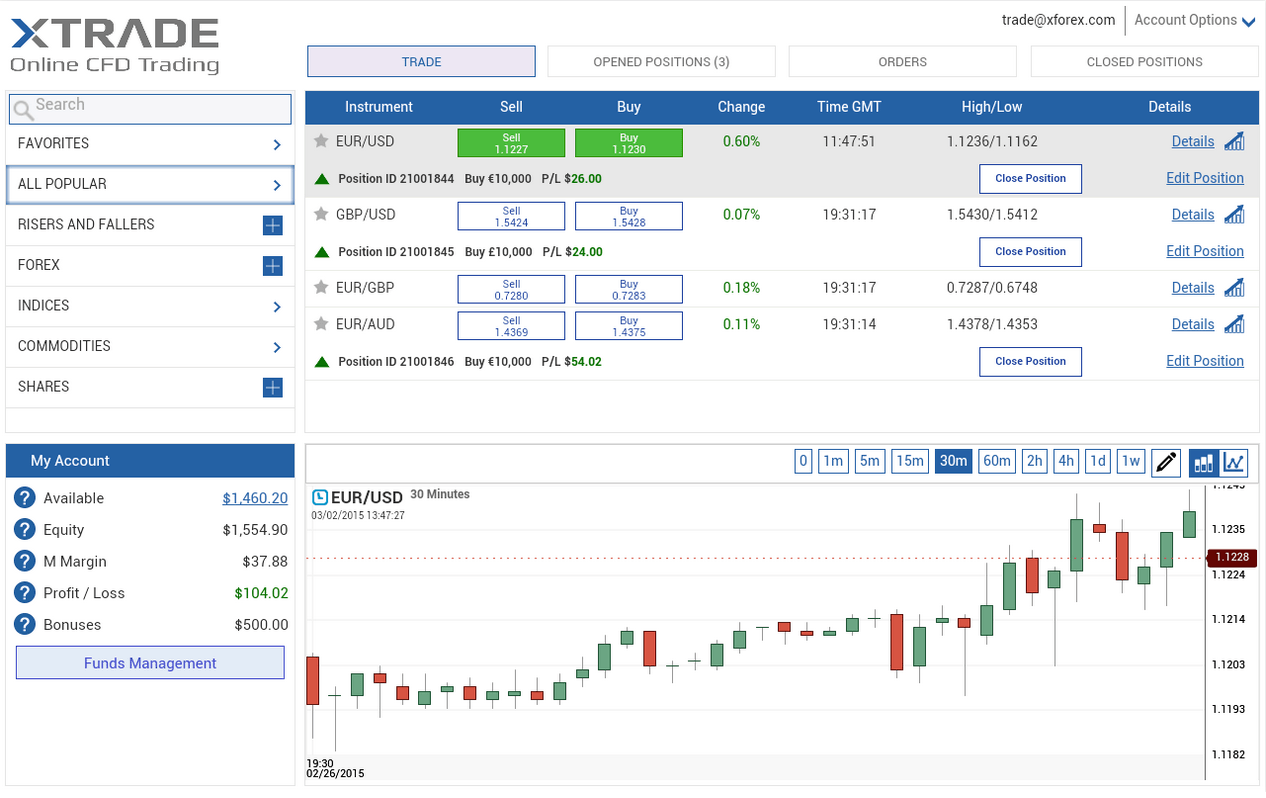 XTrade is one of the fast-growing Crypto trading platforms known for delivering an explicit and convenient trading experience to its clients as well as providing them with Profitable results to client's who have little or no trading experience.
You certainly want to keep an eye on XTrade if you want to get a good CFD, FX, stocks, indices and even a crypto broker. XTrade is currently one of the biggest CFD online brokerages. It offers numerous benefits such as a user-friendly trading platform, mobile trade, no commissions and a large standard account pack. Let's continue our XTrade review and let's tell you what you need to know about this broker.
General Info
| | |
| --- | --- |
| Name | XTrade |
| Regulation | Yes |
| Foundation Year | 2007 |
| Website | xtrade.com.au |
| Regulated By | CySEC (Cyprus), ASIC (Australia), IFSC (Belize) |
| Payment Methods | Credit Card, Wire transfer, Skrill, Neteller, CashU, WebMoney, Yandex.Money |
| Affiliate Program | No |
| Accepts US Traders | No |
| Mobile Trading | iOS, Android, Windows Phone |
| Languages | English, Arabic, Italian, French, German, Spanish, Russian, Chinese, Chinese (Simplified), Japanese, Polish, Danish, Czech, Norwegian, Swedish, Indonesian, Hungarian, Slovenian, Portuguese, Portuguese (BR), Finnish, Greek, Dutch, Filipino, Croatian, Romanian, Slovakian, Bulgarian, Bosnian, Hindi, Azerbaijani, Vietnamese, Serbian, Persian, Korean, Dravidian, Malaysian. |
| Web-based Trading | Yes |
| MT5 | No |
What Is XTrade?
Xtrade is a renowned online Forex dealer with years of experience in the field. The broker offers trading in a wide range of instruments, including commodities, indices, CFDs and shares. The broker's head office is located in Cyprus and is also managed by the Cyprus Securities and Exchange Commission (CySEC).
The company is also regulated by other foreign bodies such as (FSB) South Africa, IFSC (CySEC). The broker provides a wide variety of services to trade. There are commodities, indexes, CFDs, and shareholdings. Their headquarters is in Cyprus and is also controlled by the CySEC (Cyprus Securities and Exchange Commission). Xtrade is additionally an award-winning broker, which speaks volume about its reliability.
The company is one of the most attractive brokers as they have already proven their trustworthiness in a market where mistrust is one of the biggest issues. The broker opened its door in 2003 and has made several traders happy ever since. 
Cyprus joined the EU one year after its formation, which means XTrade automatically gained access to other EU markets. With CySEC, the regulatory body that had to adapt its legislation to harmonize with EU markets, it went through all the political changes. After EU accession, many other brokers raced to Cyprus to open their full-potential business on the island.
Xtrade provides equal opportunities for all groups of traders and provides training and coaching programs to traders with little experience through its Education Center, video tutorials, ebooks, etc.
| | |
| --- | --- |
| Pros | Cons |
| Wide Selection of Instruments | Complex terms and conditions |
| Regulated | $100 minimum account size |
| Demo Account | Wide spreads |
Features Of XTrade
Trading Accounts and Fees
You will enjoy a full trading experience with Xtrade. Its trading accounts protect clients from all backgrounds, providing quality services to all. Although the account types have minor differences, they are designed to make the hundreds of financial assets available here easier for people to trade. The several account types offered by Xtrade are summarized below:
Standard Account
This is the basic account on Xtrade, with a minimum deposit of $250. There is support for desktop and mobile trading and users will enjoy Demo accounts, and an economic calendar is available to help keep you updated on the latest market events. Traders can enjoy customer service 24/7, and you can contact them via email, phone call, or Xtrade's live chat app.
The daily video market updates are here to make it easy for you to understand what's happening on the market and make informed information-based trading decisions. Standard account users can also enjoy a 1-on-1 tutorial on the website, where they are taught more about trading on Xtrade.
Premium Account
Premium account has a minimum deposit of $1,000. Users here get to enjoy many apps including desktop and mobile trading, trial accounts, company schedule, daily video market feedback and 24/7 customer service, and 1-on-1 app tutorials.
Besides these, the other features available include an exclusive welcome bonus that, depending on the trader's choice, can be in credit or cash. The Autochartist Market Alerts, Reports, and Forecasts provide traders with valuable insights into the markets and how they can profit from market movements.
On Xtrade, premium account users get to enjoy the MetaTrader4 app, which comes with different resources and trading tools. Every user here receives a dedicated account manager to help them make business decisions while accessing educational video tutorials and eBooks is also available.
Platinum Account
The Platinum account has a minimum deposit of $5,000. Traders here get to enjoy a wide range of features including; desktop and mobile trading, trial accounts, business calendar, daily video market updates, 24/7 customer service, and 1-on-1 app tutorials. They offer an exclusive welcome bonus and a VIP bonus on Xtrade for platinum account holders, with the bonus either coming in cash or credit. Here, traders can use the MT4 trading platform, which comes with different tools to ease trading.
The Autochartist Market Alerts, Reports, and Forecasts provide traders with valuable insights into the markets and how they can profit from any market movements. Traders have access to educational video tutorials and eBooks in addition to these. With a Platinum account, spreads on trades continue to decrease. Users are assigned a VIP Trading Support / Dedicated Senior Account Manager, who is there to assist you in making business decisions.
VIP Account
The minimum VIP account deposit balance is $20,000, with users enjoying all the features on the device. Like other account types, they get to enjoy the basic features. These include desktop and mobile trading, trial accounts, company schedule, daily video market alerts, 24/7 customer service and1-on-1 app tutorials. VIP members may choose to use the MT4 trading platform on Xtrade, which has numerous trading tools. We enjoy both exclusive welcome bonuses and VIP deposit incentives, which could be either cash or credit.
The Autochartist Market Alerts, Reports, and Forecasts provide traders with further visibility into the markets and how they can take advantage of any potentially profitable opportunities for trade. VIP participants are given priority in terms of payment processing while also having access to and support for individual trading strategies. Finally, VIP traders often profit from the unique corporate gifts that are only available to them.
Regardless of the type of account you select, all traders benefit from essential services such as 24/7 customer support, fast order execution, seamless payment system and more. If Xtrade does not fulfil your trade needs, take the time before you sign up to check out other credible brokers in the industry.
Impressive Trading Platform
When it comes to trading platforms, there are two options-MetaTrader4 and Xtrade WebTrader. MetaTrader4 is among the most popular platforms around and it's not hard to see why. The user-friendly features make it a good alternative for novices as well as experienced traders alike. To top this off, you'll also enjoy top-notch apps including one-click trading and full Expert Advisor capabilities in collaboration with Xtrade. There are also plenty of advanced analytics tools to choose from which to assess your position in a much more informed way.
As for the Xtrade WebTrader, this negates the need for any program upgrades. Instead, you can just access this site from practically anywhere, so that there are no limits to your trade.
This isn't the platform's main attribute though. For example, the WebTrader platform gives you access to an extremely accurate and up-to-date analysis of the market. You can also more effectively and easily execute trades allowing you to open and close positions that much better. Mobile versions of this platform, too, allow you to trade on the go.
Bonuses
XTrade Offers various Welcome Offers:
AU$20 No-Deposit Bonus just verify your mobile number

First Deposit Bonus from 20% to 60% depending on deposit size

If your trade makes a loss get refunded up to AU$120 AND if it makes a profit you keep the profit

AU$30 No Deposit Bonus when you complete the new account verification process (just provide some simple documentation).
When you open a new account at Xtrade they have a multi-stage welcome bonus to ease you into trading.
First Bonus:
To start with all new accounts are automatically credited with a free AU$20 no deposit bonus.
How to get your free No Deposit AU$20:
To claim the No Deposit Bonus you need to follow a few simple steps:
Open a Real Account

Select Account Options and click "Phone Verification"

Enter your phone number and then enter the code you just received by SMS

BOOM! Free AU$20 has just been credited to your account
Second Bonus:
On your first deposit, you will receive a bonus ranging from 20% to 60%
XTrade First Deposit Bonus Details
First Deposit Amount:
$100 – $249 and Get 20% Bonus

$250 – $449 and Get 30% Bonus

$500 – $999 and Get 40% Bonus

$1,000 – $1,999 and Get 50% Bonus

$2,000 – $9,999 and Get 60% Bonus
As we all know, there are always terms and conditions attached to deposit bonuses. Xtrade T&C's are relatively simple to understand, and if you've ever played online poker, you'll be familiar with how this type of bonus works.
In order to unlock your deposit bonus, you will need to generate points. All Majors, Minors and Exotics award points at the ratio of  1 XPoint per $1,000 in currency traded. Interestingly Bitcoin awards 53.3 points per $1,000 traded. We feel this would be the best currency to trade in order to clear the bonus. The number of points required varies per deposit amount and will be confirmed at the deposit process stage.
Once you have made your first deposit, apart from your deposit bonus you still have TWO more bonuses that you can immediately claim.
Third Bonus
By Verifying your account with the normal KYC documentation (ID, utility bill) you will receive an immediate AU$30 Bonus.
How to get your free No Deposit AU$30:
To claim the Bonus you need to follow a few simple steps:
Open a Real Account

Make your first deposit

Select Account Options and click on "Account Verification".

Fully complete the registration form and submit the ID documents required

Get your FREE AU$30 bonus
Now that you have done all of that you will be ready to make a trade, but guess what, there is a bonus here as well.
Final Bonus
The final welcome bonus is a refund on your first trade if it makes a loss. A great way to get started!
How to get your no-lose first trade up to AU$120
Open your first trade with Xtrade, when you close it two things can happen:
If the trade is in Profit, you keep the profit

If the trade is a Loss, Xtrade will refund you up to AU$120!
That's right, a no-lose first trade!
Summary Of Bonuses
No Deposit Bonus of AU$20

First Deposit Bonus from 20% to 60%

No Deposit Bonus of AU$30 after you verify your account

No, Lose Bonus on your first trade up to AU$120
So as you can see, with Xtrade there are four welcome bonuses worth up to AU$6,170 in total to take advantage of!
Trading Instruments
The XTrade trading instruments or trading products are offered through a popular CFDs or Contract for Difference model, which allows vast flexible opportunities on price speculation without particular ownership of an asset.
XTrade Trading Instruments at a glance
| | |
| --- | --- |
| Xtrade Equity CFDs | allow trading CFDs worldwide on the most actively traded shares– Apple, Google, Nike, JP Morgan, IBM, etc. With a 5% Initial Margin. |
| Forex Trading | includes the most popular international currency pairs – EUR/USD, USD/JPY, etc, as well as the highly demanded Cryptocurrencies. Xtrade trading system provided over 50 leveraged Forex pairs with leverage up to 1:400. |
| Index CFDs | S&P 500, Dow Jones, etc. The contract value of one Index CFD equals the price quoted in the currency of the Index. The broker offers the market fixed spreads between the buy and sell prices and no commissions. |
| Commodity CFDs | Gold, Silver, Oil, Natural Gas, etc. The contract value of one Commodity CFD equals the price quoted in the currency of the commodity. For example, if Gold CFDs are trading at $1,200.50, then the value of one ounce Gold CFD is $1,200.50. |
 Payment Methods
Xtrade withdrawal fees may be null but this is not the only benefit. Xtrade provides almost forty payment methods to fund the account, with the minimum amount needed being $200. In addition to e-wallets, they also offer a number of online and domestic/national payment provider options, along with bank wire transfers, debit and credit cards. All of which makes it relatively easy for a newbie to buy bitcoin and other cryptocurrencies into the market. Some of the variety of payment methods include:
Xtrade often accepts credit and debit cards, because it is the most common method of payment that traders around the world use. Transactions made through this process are almost instantly accepted. Again, the broker does not subtract any costs, but the card itself may incur a fee associated with it.
You can make payments on Xtrade using electronic wallets, such as Skrill and Neteller. The broker will not accept any transaction charges as mentioned earlier, but these services that deduct their own charges from you. This system usually gives you funds immediately, whether you are depositing or withdrawing.
If you're trading from an area that can't use debit or credit cards, bank wire transfers are an excellent option. This approach is highly secure; the only drawback is that the transactions will take at least 2 to 5 business days to be reflected in your account.
There are similar steps that you need to take when you want to withdraw funds from your Xtrade account. To withdraw your earnings from Xtrade, follow these steps:
Visit the Xtrade website and login to your trading account

Navigate to your dashboard and access the 'WITHDRAW' tab

Fill in the payment withdrawal request form

Wait for approval, and your account will be credited after Xtrade approves your request.
All of this sounds very simple, but there is one important thing you need to know; you need to verify your account to be able to withdraw Xtrade funds. This verification is necessary on Xtrade, as the KYC and AML regulations require this. The aim is to check that you are actually the account owner and to protect your data and funds. How do you verify yourself? There are some records that need to be addressed:
The documents you may send to prove your identity include a national identity card, international passport or a driver's license. You should make sure that the documents that you send are accurate and that the information about them matches what you have on your Xtrade account.
The documents you can send on Xtrade for verification of your address include a bank account statement or a utility bill that includes gas, electricity, water, oil, telephone or internet. All documents you submit must be new, and not more than three months old. They should contain all the information you need, and be transparent.
You should bear in mind that you will not be able to conduct such transactions, such as withdrawal of funds if you don't check your account. This verification process is also perfectly common for all industry-leading regulated brokers.
Withdrawals follow the same route as deposits, so withdrawals are easy for as long as AML documents are in place. Thus, while the broker specifically offers a narrow range of platform and trading options, it offers a wide variety of payment methods including Todito Cash, YandexMoney, Neteller, Skrill, Sofort, Moneta RU, Webmoney, Multibanco, Neosurf, QIQI, POLi, Przelewy24, Sporopay, iDEAL, Halcash, Giropay, EPS, ePay bg, CashU, Boleto, eKonto, Dinero Mail, Lonanet and Mister Cash among others.
Education And Resources
At Xtrade, traders can access the numerous educational materials that they have made available. In order to stay ahead in the crypto trading room, you'll need to be updated on the sector's latest trends and learn more about trade. The easiest way to do this is to read the guides available on the web and use them. Xtrade has various educational materials including video tutorials, forums, eBooks, and glossaries. These articles are available to both new and experienced traders, and they help us learn new techniques of trading.
As for resources, Xtrade offers various trading tools to its customers. Whether it's the WebTrader or the MT4 trading platform, users can access various trading resources such as the economic calendar to keep them up-to-date about upcoming market events. Other resources you can find on Xtrade are price charts, daily market data, market analysis, live currency rates and more. You can be directed correctly on the financial markets with the educational materials and trading tools to make better trade decisions.
Customer Support
Xtrade has one of the industry's best Customer Service teams. The customer support department is available 24/6 at all hours of the day, responding to customer needs. They can be easily reached via the feature of live chat, email or phone call. The officers are very knowledgeable and amiable. When you contact Xtrade's customer support team, you can be confident that your challenge will be resolved.
Social Networks:
Is XTrade A Scam?
If you trade on the market, you should first be aware of a broker's regulatory status before you sign up with them. You will experience peace of mind if you deal with legitimate brokerage firms because you will know that your funds are safe and that your personal data is protected. It is a legal brokerage firm that has been linked to some of the world's big names.
Because Xtrade has many years of experience under its belt, the company knows exactly how to simplify the process of trading to make it easy for its clients and exchange various financial assets.
As far as Xtrade is concerned, you can be confident that it is a limited business because it is controlled and approved by the International Financial Services Commission (IFSC). Since it is a controlled organization, Xtrade is required to follow the international policies adopted in the financial markets, which include the Know Your Customer (KYC) and the Anti-Money Laundering (AML) regulations.
With the AML and KYC policies in place, removing some common issues faced by traders such as identity theft, terrorist financing, money laundering and more is easier. It is also helpful in keeping both consumer funds and the personal information they exchange with the brokerage secure.
Xtrade has a team of highly skilled and professional people working tirelessly to maintain a controlled and secure trading environment for consumers. Even these procedures come with top-notch security measures when it comes to making transactions such as deposits and withdrawals.
In fact, you'll find detailed and easy-to-understand terms and conditions page on Xtrade. The company has referred to its services in a straightforward way, which means you will find out everything you need to know before you sign up with the broker. We also have great respect for their clients ' privacy, which ensures we don't share the data with any third party. The information exchanged with Xtrade, in compliance with their privacy policies, will remain private and confidential.
How Do I Open an Account with Xtrade?
To open an account with Xtrade, follow these simple steps;
Visit the Xtrade official web and click on the 'REGISTER.'

Provide your full name, email address, and phone number

Click on the 'Agree' tab and submit your application

Xtrade will review the information and will activate your account afterwards

You can start trading your favourite assets after depositing funds into your Xtrade account.
Conclusion
The overall impression after the XTrade review is that the broker brings stable and reliable conditions to Trading. Their main offering is based on a fixed spread with no hidden fees, a powerful online platform and an extensive variety of trading instruments. As a regulated broker, the company adheres to the strict customer protection rules along with the security and safe trading environment of the funds. What's also pleasing is that XTrade supports its traders in a variety of ways, from excellent support to $0 money transaction fees, as well as widely supported method.
All in all, XTrade is an option to participate in trading with, while knowing what to expect and conduct to potential outcomes from trading open to traders of varying size and level.