Currency.com Review: The Stellar Tokenized Securities Exchange
Currency.com Review
One of the major impediments of global crypto adoption has been the lack of a regulatory background – hence, a rise in demand for a regulated environment for the trade of these digital currencies.
In response to this, Currency.com launched its tokenized securities platform for the exchange and trade of cryptocurrencies and tokenized assets. Aimed at extending access to traditional financial and commodities markets to crypto investors, this exchange had leaned towards advanced technology to provide an intuitive platform for trade.
In this article, we highlight and review the intricacies of this crypto exchange and explore how the platform works for both retail and institutional investors.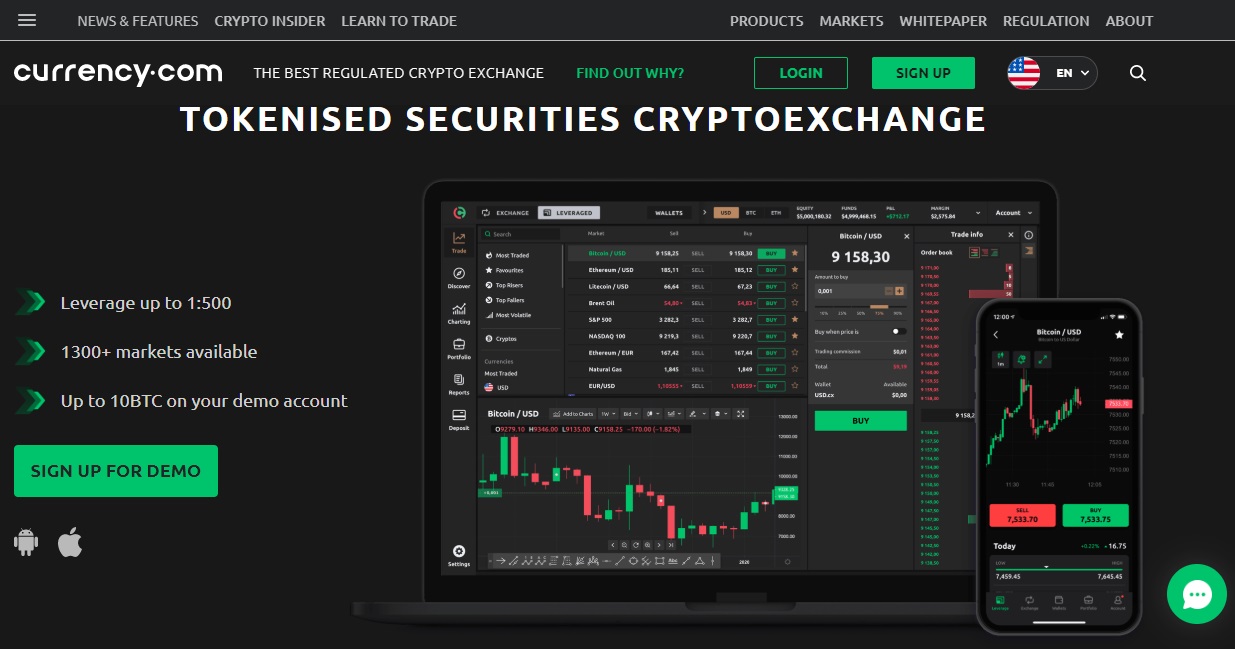 Currency.Com at a Glance
Exchange

Currency.com

Minimum Initial Deposit

$100 or €100, 0.01BTC

Demo Account

Yes

Leverage

1:20, 1:100

1: 10 on cryptocurrencies

Assets Coverage

Cryptocurrencies, Tokenized commodities, Indices, Shares and Government Bonds

Exchange Fee

20BPS (2% of Value of Exchange)

Smart token assets under management (AUM) fee

50BPS per annum

Trading Platform

MT4 Webtrader, iPhone (iOS), Android Trader, Desktop Platform

Tools

Profit level, Accumulation/distribution moving average Indicators, Fibonacci Retracement levels

Supported Payment Methods

Wire Transfer, MasterCard, Visa card, cryptocurrency transfer.
 

Currency.com: The Tokenized Securities Exchange
The crypto community took one step closer to mainstream adoption with the launch of Currency.com in 2019. Aimed at combating the several crackdowns and cynical distrust the world of cryptocurrencies faced globally, this platform was created to create a regulatory backbone for the trade of cryptocurrencies.
Today, both institutional and retail investors seeking to expand their holdings from cryptocurrencies to owning tokenized securities on shares, stocks, indices and commodities have a base for operations.
This platform makes it such that investors with Bitcoin, Litecoin or Ethereum can directly expand and trade financial assets on top companies and brands as well as extend to commodities without the need for an exchange to fiat currencies.
Headquartered in Minsk Belarus, Currency.com bases its operations on a wealth of experience and knowledge backed up by its parent company, Currency.com BCL LLC.
Also, in bid to advance the reach of its platform across the globe, it has its other offices in the United Kingdom and Gibraltar.
Though relatively a new platform, Currency.com has to its portfolio over $20 million in transactions with more than 5000 registrations. This platform gleans from the transparent nature of blockchain technology by integrating its system advanced technology layered with physical and virtual security.
As an innovative system, Currency.com focuses the bulk of its research and activities on promoting financial inclusion by enabling remote trading. It has a mobile-app that is built to be compatible with different OS and enable trading at various locations globally.
Like all innovative digital brokers, this platform aims at providing investment alternatives and incentives to traditional investors. As such, it looks to include over 8000 tokenized assets to its current array of 1300+ assets.
What Makes Currency.com So Unique?
Despite the surge in ICOs and crypto projects, the adoption of cryptocurrencies in the long-term remained threatened due to the risks to represent. Consequently, there appeared to be a disconnection between existing traditional financial markets and the crypto market.
Furthermore, direct trades between crypto and traditional financial assets as well as commodities remained limited in the absence of the middle ground created by regulations and fiat currencies.
In response to this, Currency.com built a platform that aimed its operations at fostering a more defined connection between traditional financial products and crypto assets.
 As such, crypto traders as well as institutional investors looking to diversify their portfolio can directly trade their crypto assets for securities on stocks, shares, indices and commodities without the need for conversion to fiat currencies.
Currency.com was launched to promote stability for crypto investors in the face of the constant volatility experienced by the market. This exchange stands out by being the first European platform to be legalised to offer regulated tokenized securities.
Taking in the scalability issues associated with traditional financial systems, its inculcated blockchain-based service allows users to process their transactions in time while enabling transparency.
With tokens from this platform, investments can be done in top global markets with crypto or fiat currencies as the collateral.
Tokenised Securities on Currency.com
Securities are generally assets that can be exchanged for value at a future date. They range from stocks, shares, indices to commodities such as gold.
Securities are subject to jurisdictional regulatory measures and are forms of investments that in their form offer a measure of stability to investors.
Tokenized securities take this form of investment up a notch by offering investors and traders programmable securities. This means that the transfer of securities is based on blockchain technology and this opens traditional investors to the benefits of expanding their portfolio.
Partnering with Capital.com, Currency.com offers crypto traders the opportunities to benefit from the dynamics in prices of financial assets without the need of exchange. It currently offers 1300 tokens with goals of increment to 10000 tokens.
These tokens listed are pegged to the prices of underlying assets classes from top companies including Amazon, Apple, Coca-Cola as well as indices such as S&P 500 AND Nasdaq 100. Also, investors have access to direct trade for gold, silver and Brent Crude.
The exchange also offers tokens n government bonds. However, at the time of writing, this offer is only open to traders seeking access to the Belarusian government bonds.
Securities tokens on Currency.com operate with market dynamics. Opening a trading position allows traders to track and monitor the movement of a token in accordance to the market movement of its underlying asset.
Currency.com is basically a platform underpinned with the digital ledger technology and as mentioned above, allows direct trade without going via fiat route. This platform issues access to smart assets such that any investor with BTC or ETH could invest in diverse traditional financial instruments.
Security
As an innovative platform, Currency.com bases the security of its clients, funds and entire syetm on advanced technology. It has its servers located at the LD4 data center with a fully equipped video surveillance system for monitoring.
Security on this platform is further enabled by two-factor (2FA) authentication, API keys as well as IP addresses to sort through likely threats.
As a regulated platform, Currency.com's security system is developed to be compliant with the International PCI/DSS payment systems security standard. It also has its system verifie by the Belarusian High Technology Park which is an European blockchain regulator.
Digital trading is recognized to hold a measure of risk especially in the light of security breaches encountered by several digital trading platforms. This platform ensures that users' privacy is guaranteed with its encryption standards.
For Currency.com, funds are secured with the use of hot and cold wallet services. Its cold wallet service is layered with PGP/GPG-enabled encryption which requires a multi-signature procedure and keys for transaction to be made possible.
While its exchange system is limited to BTC and ETH, it inculcates a technology that allows interaction with the blockchain of these assets. As such, its hot wallet service allows fast execution of trades compared to other platform while keeping just 3-5% of assets in it.
The use of these wallets often requires the participation of authorized signatories to ensure protection and security of funds.
Regulatory Compliance and User Security
Currency.com stands out as the first European regulated tokenized securities exchange and is subject to the Belarusian 8th decree on Digital Economy Development legislation.
It is also compliant with regulations from the UK Financial Conduct Authority as well as the Cyprus Securities and Exchange Commission. In compliance to these legislations, Currency.com has in place KYC and AML policies aimed at protecting its clients while upholding its regulatory obligations.
For registration and trade, clients are required to provide identification and contact details for verification. These include government-issued Identification card or passport and any other data for verification of identity and address.
In line with its KYC and user security policies, it collects data on IP address for location-based regulatory compliance, the device ID, level of education and trade experience and the client's economic profile.
Leverage Trading on Currency.com
The peculiarity of leverage trading is its ability to provide traders or investors with the ability to increase their trading position beyond what's available at the time of trade. It is a method that allows investors and traders to maximize their profits and expand their portfolio.
Currency.com opens this opportunity to its client. This platform offers leverage from 1:10 to 1:100 depending on the asset class. Crypto traders on the platform are open to 1:10 leverage while tokenized stocks traders and investors are open to 1:20 leverage.
The exchange gives tokenized commodities and indices 1:100 leverage which means that investors can trade up to $100,000 for every $1,000 in their account.
Payments Methods
As a platform pushing for a consensus on trading and participation in the global financial markets, Currency.com provides traders with several payment options. It has developed its system to accept cryptocurrencies for trade in the absence of fiat currencies.
This means that crypto holders do not have to be subject to the hassle of exchanging crypto for fiat before trading. It also accepts payments with Visa cards, Bank Wire transfer, MasterCard.
Bank transfers do not require commission fees. However, reflections on the clients' account are subject to jurisdiction and bank service providers.
Trading Commissions   
Though this platform requires relatively lower transaction fees, it charges fees on withdrawal and deposits as well as platform fees. Currency.com charges fees based on the payment method chosen. However, the maximum deposit amount for all the payments method is 24,000USD equivalent.
The platform charges maker fees addition of liquidity to the order book and taker fees when the liquidity is removed. While its maker and taker fees seem relatively high, it has an overnight fee that is designed to give traders the opportunity to rein in profits. 
These fees though, vary according to the financial instruments to be traded:
Fee Type

Fee Details

Trading Fee

Crypto taker fee: 0.075%

Crypto maker fee: -0.025%

Tokenized assets (Shares, ETFs, Indices, Commodities) : 0.0125%

Tokenized currencies: 0.002%

Exchange Fee

Crypto taker fee: 0.2%

Tokenized assets (Shares, ETFs, Indices, Commodities):0.05%

Tokenized currencies: 1%

Tokenized bonds: 0.03%

Companies tokens: 0%(buy), 1.5%(sell)

Funding Fee

Applies to continuous leveraged trade subject to market dynamics
On Tokenized Bonds
The platform offers government bonds as well as corporate bonds to users. However, only the Belarusian finance ministry bonds are available for trade on the platform. These bonds are subject to interest annual payments.
The interest payments on tokenized bonds are up to 5% on these government bonds and 7% on corporate bonds. The required trading commission is 0.5% and trade can be effected in USD, EUR, RUB, ETH, BTC and BYN.
Currency.com Trading Districts Restrictions
Though launched as a global exchange for opening the door to interactions between the traditional financial markets and crypto market, its reach is limited. While plans for expansion are underway clients from the following countries are restricted from trading on the platform:
Botswana

Pakistan

Democratic People's Republic of Korea

The United States of America

Trinidad and Tobago

Zimbabwe

Iran

Cambodia

Iceland

Mongolia

Ghana

Panama

Syria

Belgium

Sri Lanka

Yemen

Ethiopia

Pakistan

The Bahamas
Special Features?
Customer Support
One of the determinants for a good platform engagement rate is the quality of its customer service system. Currency.com features a robust support system that is integrated to ease the clients introduction to the platform and aid transition into trading.
As a global exchange, it has a multilingual system that works at promoting cultural diversity while ensuring that clients over the globe can interact with its platform in the language close to home.
This platform features a 24/5 customer service system with a live-chat feature that ensures prompt response to clients' needs. This system also has an FAQ section tailored to give insights into the intricacies of the platform.
Referral and Affiliate Program
Currency.com provides clients with additional ways of reining in profits and earning through its programs. This platform has a affiliate program that allows investors partner with them to provide services to other users.
Clients in this program earn through the revenue share model with provides them with 50% of the commission on trade by clients brought on by the affiliates. The referral program also opens clients in the program to these benefits along with 12% discount on their trading commissions for 6 months.
The affiliate program entitles its users to a 10% sub-affiliate free. To get into the program, clients are required to register, log in and get the referral and affiliate link.
User-Friendly Interface and Convenience
Despite its foundation of advanced technology, Currency.com is a platform that ensures wasy navigation through its platform. To further improve access, it includes apt guides and menus for easy trading and transition.
The platform has a mobile app developed and is compatible with the Apple iOS and the Android OS as well as a web version. This syetm features tools, indicators, analytics and easy account settings to help traders and even visitors to gain the innovative trading experience.
Educational Insights
As an intuitive platform, Currency.com recognizes the importance of education in promoting global financial interaction. As such, it includes a learning platform that provides access to relevant and real-time information on its assets and market dynamics.
Its well-integrated library equips clients of all experience level with adequate knowledge on their trade- thus improving their chances of maximizing profits. Its homepage includes a blog that showcases information on the global market dynamics as well as scholarly materials for clients interesting in expanding their holdings.
Before Registering
The registration process on this platform is one of the simplest. It requires that clients provide details as asked for verification before providing access to its system. It is compliant with KYC policies due to its regulatory background.
As such, users are required to go through the KYC procedure by supplying clear identification documents for verification.
Final Thoughts
Though relatively a new platform, Currency.com has established itself as a pioneer in bridging the gap between the crypto community and the global financial scenes. It is aimed at fostering inclusion while providing a platform for unified trading without the limitations of regulations and security.
Today, Currency.com has improved the use cases for cryptocurrencies thus increasing their advancement towards mainstream adoption. It opens as a crypto trading platform and offers several incentives to help its clients minimize risks due to the upheavals in the market.
As a provisional regulated tokenised securities marketplace, access to traditional financial instruments is made easier. With its prime research focused on digital trading, this plat ensures that security, privacy as well as user experience is stellar.
Currency.com has its reach limited to certain jurisdiction. As such, clients in certain parts of the world do not have access to its services. Curency.com however makes up for this limitation by providing several programs and trading alternatives to its available clients.