ETFinance Review: Platform With a Wide Range of Trading, Bonuses, Withdrawals and More
ETFinance.eu Review
Trading – buying and selling –  an age long practise for the exchange of goods and services, has been with man from time immemorial. But the mode of trading has evolved over time in keeping with the needs of the people, advancement in technology etc.
In a financial world that is fast evolving, it is no doubt that the biggest succeses are traders who aren't new to the market structure. These traders understand how to make profit from the routine booms and busts(the process of economic expansion and contraction) that are characteristic of the dynamics of trading. 
However, only a few traders make a profit from both stock markets and equity markets.
Another category of  traders and investors who make profit from global markets in a more effective and convenient way are those  who are trading with the right broker and have access to a wide range of tools.
ETFinance, a European based online broker represents one of such award-winning trading platforms which offers its users with a wide range of tools. In the rest of this article, we'll take time to discuss this platform and why some of the world's most successful traders use this service.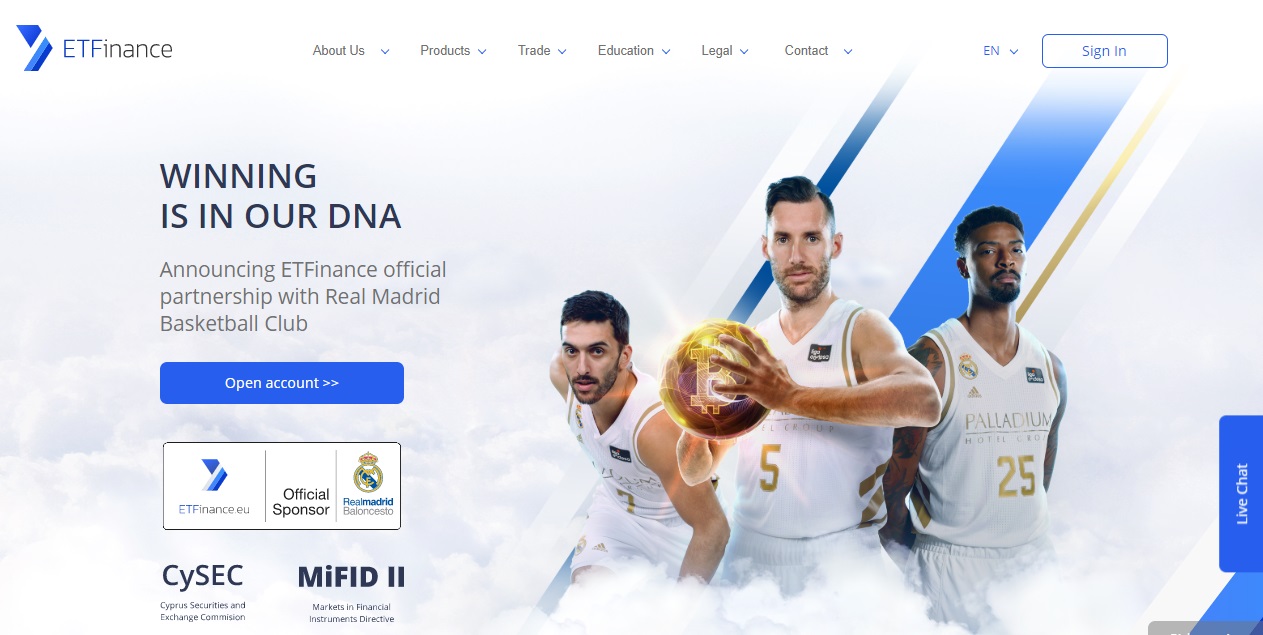 General Info
| | |
| --- | --- |
| Broker | ETFinance |
| Year Established | 2018 |
| Head Office | Cyprus |
| Regulation | Cyprus Securities and Exchange Commission (CySEC) |
| Users | 10000+ |
| Negative Balance Protection | No |
| Guaranteed Stop Loss | No |
| Mobile Trading | Android, IOS |
| Accepts US Clients | No |
| OS Compatibility | Desktop(Windows, MAC), Web Platform |
| Trading Desk Type | Dealing Desk |
| Tradable Assets | Currencies, commodities, stocks, crypto |
| Withdrawal Options | Credit card, Wire Transfer |
| Debit Options | Credit card, Wire Transfer |
| Website | Visit Website |
| Demo | Open a Demo Account |
| Risk Warning | Trading leveraged products may not be suitable for all traders. 71% of retail CFD accounts lose money |
 What  You Should Know About ETFinance
This platform was founded in 2018. ETFinance is a brand name of Magnum FX which is regulated by the Cyprus Securities and Exchange Commission the "CySEC" and offer a wide range of tradable assets across forex, stocks, indices, commodities and cryptocurrencies on the MetaTrader trading platform for Desktop, Web and Mobile. It is a registered company in Cyprus with registration no. HE360548. They are regulated by the Cyprus Securities and Exchange Commission (CySEC) under license number 359/18 and are located in 79 Spyrou Kyprianou Avenue, 3076, Limassol, Cyprus.
ETFinance allows traders to manually trade assets on the financial markets through a connection to liquidity providers. Crypto automated trading robots claim to use sophisticated trading algorithms that allegedly scan the market and are able to place profitable trades in the market for you.
Crypto robots are not allowed by law to collect deposits and must, therefore, operate through a partner broker. That is the reason why crypto robots like Bitcoin Era transact through regulated brokers.
ETFinance offers features and services that are designed more for beginner traders with an impressive educational video library and 24/5 customer support. This educational video library offers topic such as;
Primary Forex Education: from A to Z

Fibonacci and Calculations

Candlesticks and Chart formation patterns

MT4

Forex indicators

Timing in Forex -an essential aspect of success.

Cryptocurrencies – fundamentals and more.
ETFinance has a listed stock symbol. This means that ETFinance have publically listed and you can officially buy shares in ETFinance on one of the world's global market exchanges.
Interestingly, a primary CySEC requirement that ensures the safety of client funds is that investment companies like ETFinance maintain a EUR 700,000 operating capital at all times and ensure its client funds for up EUR 20,000.
These measures clearly mitigate the risk of bankruptcy and at the same time assures customers that funds can be recovered in the event of an ugly incident like theft, or security breach.
Pros and Cons
| | |
| --- | --- |
| Pros | Cons |
| Wide range of tradable assets | No facility to trade on MetaTrader 5 or cTrader |
| An extensive range of educational material is available. | Limited features and accounts for expert traders |
| Trade via the popular MetaTrader 4 platform | Bonuses are limited due to the stringent regulatory requirements in place. |
| Commission-free trading |   |
| ETFinance offers an Islamic account for users who wish to apply the principles of Islamic law. |   |
ETFinance Features
Wide Range Of Tradable Products and Financial Instruments
Only on very rare occasions will you find brokers that offer such a wide variety of CFD commodities for investors. This is an area of specialization for ETFinance because this platform provides outstanding services for its users. A wide range of assets and stocks, having big momentum and potential are listed on the site.
This forex exchange platform is very active and reliable, and has a wide variety of currency pairs and people can trade forex options. For some currency pairs, the site is operational for 24 hours but for others, the broker has fixed the the time for trading.
Users can invest in nearly any instrument you can think of unlike the few that other brokerage services offer. Below are some of the instruments;
Assets

Forex

Metals

Indices

Stocks

Commodities

CFDs

ETFs

Cryptocurrencies
Commodities such as natural gas, crude oil, silver, gold, palladium, platinum and all other physical assets are listed on the site for investors. As stated above, clients can also invest in world indices via CTDs which include NASDAQ 100, FTSE 100, US Dollar Index, DOW 30, and many others.
Tradable products at a glance;
| | |
| --- | --- |
| Class | No of Assets and Examples |
| Forex | Up to 50 pairs, EURUSD, EURDKK AUDCHF, GBPJPY, USDZAR, and more… |
| Indices | 20 + CAC, FTSE, DAX, DOW, IBEX, AEX, VIX, etc. |
| Commodities | SUGAR 11, CORN, COFFEE, NATURAL GAS, BRENT CRUDE OIL, and more… |
| Stocks | 150 most popular stocks on the market. BMW, APPLE, FACEBOOK, AMAZON, DAIMLER, VODAFONE, and more… |
| Metals | 4+ main metals on the market. |
| Cryptocurrencies | Bitcoin, Litecoin, Ethereum, Dash |
Now there are hundreds of exchanges established only for cryptocurrency due to its large scale recognition globally and ETFinance  has made it easy qnd convenient for their users to transact crypto trading, as it has added a lot of currency pairs. Almost all of the crypto pairs are against the few currencies including USD, EUR and GBP.
Standard Trading Platform
ETFinance offers customers the industry-standard MetaTrader4 platform. You might be wondering what a MetaTrader4 Platform(MT4) Is. Well, MT4 is the most popular trading platform on the market which professionals and beginner traders alike actively use. In general, MT4 gives you access to some of these essential trading features:
A market order to help you buy and sell

A pending order for advanced trading

Buy and sell limits to automate trading

Mobile Responsive

Features to customize trading

Lots of technical indicators

Trading signals
Besides, the Web Trader is a perfect start for the beginner level traders.  However, this does not exclude expert traders. Users will enjoy customization cart tools provided by ETFinance. Also, they'll be able to use  Expert Advisors and also trading.
This is one of the most user-friendly platforms you would find and it  has a huge pack of trading tools included for users' convenience. It is available in both desktop and mobile versions. Still, there might be a need for a platform download to the device, but it depends on the version. The download and installation are free, which is definitely a nice bonus.
Multiple Accounts
There are four types of trading accounts on ETFinance: Silver, Gold, Platinum and an Islamic account. Your account type determines your minimum spread, maximum leverage and the quality of customer support you get.
Depending on your trading style and experience, you may decide to use any of the trading types available on this platform. ETFinance is a good option, with trading conditions improving throughout the hierarchy.
For beginners, the silver package offers access to some 750 assets alongside a 0.07 minimum spreads and 1:30 maximum leverage. However, this package does not feature a dedicated account manager, nor the educational tools which are only available to Gold and Platinum account holders.
Another interesting and very unique account tier on the platform is for Muslims who because of their faith are averse to interest fees.The Islamic account allows you to trade on a raw pricing deal. It also comes with zero interest or swap charges.
ETFinance offers a unique trading experience without interest or swap charges on overnight positions.
Everyone has the chance to become a platinum trader. Below is a table that shows the important features of these accounts;
Silver Account
Gold Account
Platinum Account

●      0.07 Minimum spreads

●      1:30 Maximum leverage

●      Full 10-hour support from 10 am-8 pm GMT

●      Islamic Account

●      0.05 Minimum spreads

●      1:30 Maximum leverage*

●      1:400/1:500 Maximum leverage**

●      Dedicated account manager

●      Webinars & Videos

●      Hedging

●      Swap discount 25%

●      0.03 Minimum spreads

●      1:30 Maximum leverage*

●      1:400/1:500 Maximum leverage**

●      Dedicated account manager

●      Webinars & Videos

●      News Alerts

●      Swap discount 50%
Leverages
ETFinance offers its clients a leverage ratio of up to 1:30 for retail clients and up to 1:500 for expert traders. The leverage ratio depends on the asset classification.
This leverage has an effect on your profits and losses because it magnifies them in both directions.
ETFinance leverage magnifies both profits and losses when trading. For instance, you buy $10,000 worth of General Electric (GE) using contracts for difference ( CFDs ) using the ETFinance trading platform.
Suppose that General Electric (GE) rises 10% because its results are positive. Your position which was worth ten thousand dollars is now worth $11,000.
It means it grew by $1000 , a 10% rise in value. This represents a hundred percent increase on the funds initially dedicated on your leverage CFD trade.
Our initial investment of $10,000 for the trade and has made a thousand dollars in profit because the price is up ten percent.
The ETFinance leverage goes both ways. If General Electric (GE) falls 10% on week results in your position which was worth $10,000 is now worth only $9,000.  It has fell by a thousand dollars.
Demo Account
Before any customer starts live trading, he/she would be encouraged to open a DEMO account for practice. Trading is a very risky affair  which involves being quick with reaction. So, before the trader deposits his own money, the Demo account allows him/her to practice and see how it works.
 Demo  account, by the way, is fully operational and looks exactly like the life trading, with one major  difference; the money you win or lose is not real. They cannot be withdrawn or loaned. But that might be a great point about it.
Competitive Fees
ETFinance withdrawal fees vary on the payment method, it does charge inactivity and  deposit fees.
Traders, sometimes, research to find a broker that has low trading fees or commissions so that they can easily make a lot of trades to earn a profit. ETFinance deducts no taxes on forex options and offers the very lowest commission on other products in the market. Everything about charges is written with clarity and there are no hidden charges at all.
Traders get a special opportunity to do more trading than normal with low commissions as there is no tension for the deduction of high taxes on the part of the brokerage service facilitator. There are no fees at all on CFD forex pairs as the company gets its profit from the spreads. The spreads are clearly shown on the website and are very competitive. With such a low fee structure, it is a charming site for the active traders.
Educational Resources for Guidance
To trade effectively with this platform, it's important to have a good understanding of its trading tools and the markets.
So whether you're just beginning your investment journey or a seasoned expert, ETFinance hopes to offer a nice collection of materials that offer insights on how to get the best out of your trades.
These materials are available in multiple formats including webinars, articles, video-on-demand, ebooks, and tutorials. So that with this information, investors can get the best outcome.
Withdrawal of Funds
You can request a withdrawal online, by going to the official Customer Area inside your account. To make a withdrawal, you'll need to give full information regarding the payment method that you used to make a deposit, as well as any additional documentation. For example, you may need to provide a bank statement, containing your bank's IBAN or bank reference. Following international requirements, traders can only transfer funds to a financial balance held under the same name as the trading account.
Withdrawals from dynamic records are free, but if there is no significant trading activity on the record preceding withdrawal the broker may charge a 50 EUR withdrawal fee.
Excellent Customer Service
From experience, nothing hurts more than when you encounter an issue while using a brokerage service and your ticket request has to last several hours before the first response from  a customer service representative.
This platform understands how important a ticket request is, and the fact that it could make a difference between winning and losing trades and also help forex traders maintain their emotional balance.
With this in mind, the platform offers a 24/5 customer service desk that responds to tickets promptly except on weekends. It provides customer channels using three channels:
Support

Live Chat

Phone Contact

Email Support

Languages

English, Spanish, German, Dutch, Italian, Portuguese
Online ETFinance reviews show the trading company has an active customer support department. The team replies to queries and complaints through all its contact channels. So, you can be sure in case of any issues; someone will help you.
Referral Program
By referring people to join ETFinance, you can earn money. You could earn up to $800 for each person you refer. Again, you also get money each time people you referred take part in trading.
You can become an affiliate by clicking this link (https://www.etfinance.eu/en/become-partner#contact-us-form)
Secure Payments
ETFinance offers a variety of secure and convenient ways to deposit and withdraw funds as soon as your trading account is active.
Users are able to transfer funds via some third-party online wallet such as Trustly and Major Credit and Debit cards
There is also an option to deposit and withdraw funds by bank transfer. With no option to pay via Paypal or Paysafe card at this time, the broker does not offer as wide a range of payment options as some of its competitors. However, withdrawal requests can be made online logging into your account and submitting a request for withdrawal.
Customers will need to provide full details of the method that you used to deposit, including any supporting documentation. It may be necessary to provide a bank statement, including your bank's IBAN or bank reference number, in order to request a bank transfer. In accordance with international anti-money laundering requirements, traders are only able to withdraw funds to a bank account held in the same name as the trading account. Withdrawals from active accounts are free, but ETFinance may charge a withdrawal fee of 50 Euros if there is insignificant trading activity on the account before the withdrawal.
ETFinance Trading Costs
ETFinance aims to provide a good value service, with no trading fees or commissions on forex CFD trading, and low commissions on other instruments such as commodities. With CFD currency trading, the broker's profit is taken from the spreads. ETFinance offers floating spreads, so they will vary, but the spreads are generally competitive.
Current spreads for each available currency pair are clearly displayed on the ETFinance website on the Live Pricing page. The spreads for over 80 different markets can vary depending on current market conditions. The commission-free model means CFD Forex traders can trade as frequently as they want, without paying transaction fees, which is an attractive option for active traders.
Is ETFinance a Scam?
There are no traces to show that  ETFinance is a scam. In fact, the European broker appears to be legit, based on several investigations and user reviews. ETFinance is regulated by the Cyprus Securities and Exchange Commission (CySEC) and complies with GDPR standards, ESMA, and MIiIFD.
The broker offers several features for inexperienced and professional traders. A great educational hub, a variety of tradable assets, standard customer support, and advanced trading tools.
Nonetheless, we must inform you that we have come to the conclusion that the best way to trade on ETFinance is through an automated crypto trading robot such as Bitcoin Era. If you are a novice trader and have not yet developed sufficient trading skills, trading on ETFinance via Bitcoin Era allows you to fully automate your trading by one click. This means that anyone can use this platform without having any previous trading background.
Commissions and Spreads
ETFinance does not charge any hidden fees such as deposit and withdrawal fees and the broker only profits from the spread they charge to traders. Traders at ETFinance can enjoy extremely low spreads from 0.03 pips.
Conclusion
There is no doubt that ETFinance is a solid and reliable broker in terms of trading features, safety and security of clients' funds. It is regulated by the Cyprus Securities and Exchange Commission (CySEC), provides MetaTrader, offers a great variety of more than 1000 financial assets, and a selection of educational resources. We encourage you to trade on ETFinance through an automated trading robot such as Bitcoin Era.
As a relatively new brokerage, it is not a surprise that ETFinance has not acquired awards and accolades within the industry. This may have a tendency to change in the future, as the broker has certainly done everything necessary to establish a quality brokerage, but only time will tell, of course.
ETFinance has ensured that one of their trading platforms, at least, is an award winner. As many experienced traders will know, the MetaTrader 4 platform is well-known and highly respected in the trading world, and has previously won awards, including the Best Forex Trading Platform at the Finance Magnates London Summit Awards in 2016 and 2017, and the Best Multi-Asset Trading Platform at the same awards in 2016.