Action Refund Review – Is Action Refund Scam or Legitimate? (actionrefund.com Is a Scam)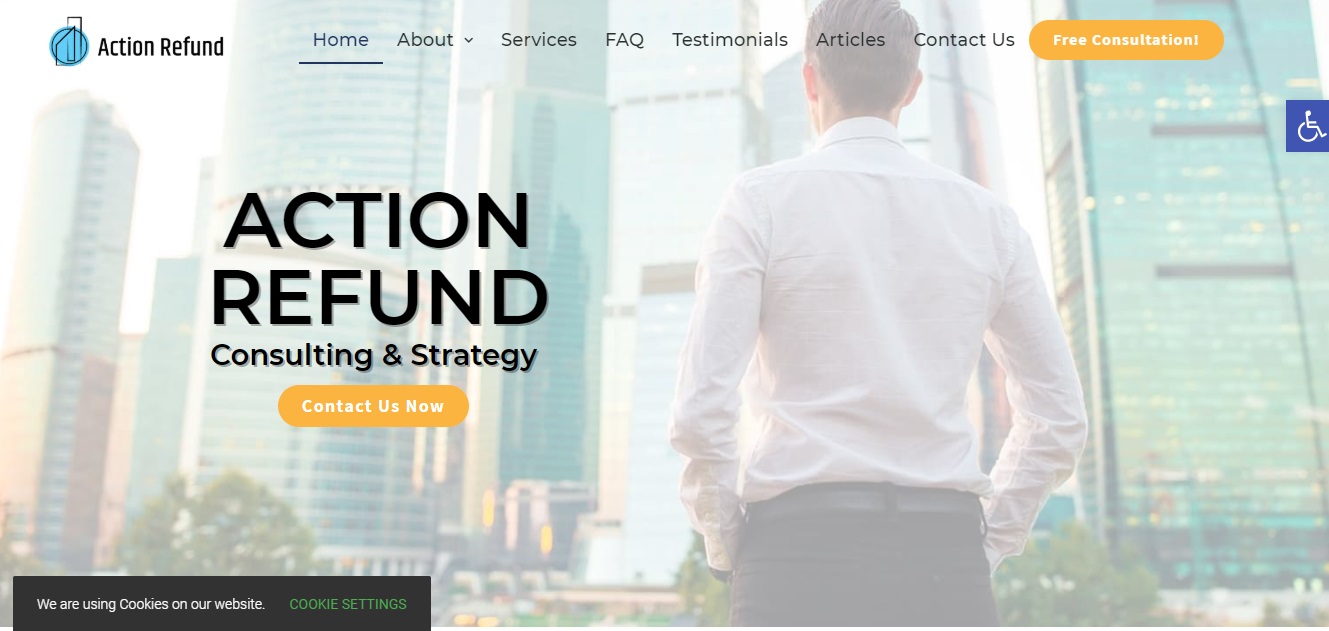 Action Refund Scam
There is no doubt that the advent of the internet has brought numerous changes in our life that have proven to be immensely beneficial. These days, you can work online, shop online, study online and do pretty much everything else, right from the convenience of your home. However, like everything else, it also comes with its downsides and problems. The internet has become a stomping ground of a huge number of scams and frauds. Cybercriminals have come up with various tactics and tricks that they can use for taking advantage of people. Hence, every online activity that you do comes with its fair share of risks and it is up to you to decide if you are willing to take them on.
If you do some research, you will come across countless stories of people being scammed in different ways, particularly when it comes to the world of trading. Online trading has gained a lot of popularity due to its ease and potential of offering high returns. People enjoy trading thousands of financial instruments like forex currencies, cryptocurrencies, binary options and more. Even with small investments, it is possible to generate high returns and this is undoubtedly appealing for people. But, it has also given opportunity to cybercriminals to exploit people in different ways.
Action Refund Review
Those who may not have a lot of knowledge about how trading works often end up being victims of different frauds and scams. The biggest problem is that when such scams do happen, people don't know where to get help. Not everyone has knowledge of the regulations, if any, governing online scams and don't know where to report them. Some people don't take any action because they are too ashamed to disclose it while others are frustrated because they have no idea how to get their funds back. This is where Action Refund comes in.
It claims to help people who have fallen for an online fraud or scam and appears as a beacon of hope for them. According to the company, they are ready to help any victims of scams and frauds who are ready to reach out to them. They ask them to provide them with full details about the scam i.e. disclose how and where it occurred and mention as much information as possible. They also ask for some personal details like your full name, email, phone number and country of residence. According to them, they will first verify the information and if they find it valid, the case would be assigned to a team member who would update them regarding its status.
This sounds quite reasonable and people are definitely grateful to get any help, but does Action Refund really live up to its claims? Sadly, it doesn't look as if Action Refund is a legitimate company and can provide any form of assistance to its clients. There are a number of red flags that indicate that it is just another one of the shady firms out there and are also trying to take advantage of victims looking for help. What are these red flags? Let's take a look at some prominent ones:
No information about verification process
As mentioned above, Action Refund claims that they will first verify the information that people share with them about their respective frauds. This sounds practical, but the problem is that the company has offered absolutely no information about how they will go about it. They have not provided any proof for vindicating their promises, which means there is no transparency.
They are just making vague claims on their website and don't share how they determine whether the victim has been scammed or not. No explanation has been provided about the process. This is a red flag because a legitimate company would be open and transparent about their operations. They would provide details about their verification process to reassure the customers, but Action Refund does nothing like that, which immediately makes it doubtful.
False consultation claims
If you check the Action Refund website, you will discover that they claim to offer a free consultation to their clients for discussing their case. But, when you take a look at their privacy policy, you will find them contradicting this claim. They have stated that they charge a commission and also a fee, depending on every individual case. Moreover, if you take a close look at the website, you will be able to see several payment gateways at the bottom. Why do these payment icons exist when they claim to not charge their clients for a consultation? These contradictions indicate that Action Refund is also another scam that's just trying to draw in people with claims of helping them.
Live chat option is not available
When you have been a victim of an online scam, it is difficult to explain everything by writing a description. You might miss out on some details or may not think of a few things. Even when you report a crime to the police, they ask you questions to get all the details. But, Action Refund only asks people to provide a description of the incident. They have not introduced the option of live chat through which people can reach out to the agent to know what to include or not.
Furthermore, even though they have mentioned an email address and multiple phone numbers on their website, they are of no use. If you try calling at these numbers, you will discover that they are not operational. It is just window dressing and several people who have attempted to get in touch with the company have claimed about their contact options not being available. This is a red flag because the company should stay in touch with the victims and constantly provide them with updates about how their case is progressing. Also, people may remember some important details later, but they will not be able to share as there is no response.
Lack of support for UK clients
The sole purpose of Action Refund is to assist those traders and investors who are duped by different types of schemes, investments and opportunities found online. Therefore, they should assist every client in their matter, but if you try them out, you will discover that their website doesn't provide any assistance to clients in the United Kingdom who are victims of mis-sold investment products. This is also a scam and these people also require help, but Action Refund doesn't offer their services in this regard, as most of these investment products are regulated by the FCA or PRA. Why don't they? They provide no explanations for this move.
Before you share any personal details online, it is recommended that you check the company thoroughly because your information can also be misused. It is a wise move in regard to Action Refund because if you take a look at its domain registration, you will see that the company was established in October 2019. This means that the company doesn't have a lot of experience under its belt in relation to resolving scam cases and they should not be trusted with such sensitive information. It is a red flag because the website doesn't disclose the fact that the company has been recently established. Had they been forthcoming about it, giving them a chance would have been possible. But, the fact that they have hidden this information is a warning sign.
Action Refund's website claims that they have helped many traders in resolving their problems, but they have not provided any case history to back up their claims. If you want to check how the company has assisted traders and make sure they are able to help, you will not be able to do so. Therefore, those who have been scammed in one way or another may not be comfortable with the idea of sharing their personal details with Action Refund. You will not come across a single source on the entire website and this also creates doubt about the company because it should know that victims wouldn't be comfortable in sharing such information without any proof.
Fake or paid testimonials
Like most companies and services that operate online, Action Refund also has customer reviews and testimonials posted on its website. They are all raving about the company and how it has helped them in recovering their lost money. But, if you look at these testimonials closely, you will see that they appear to be fake. Most of the people who are giving their reviews don't have a photograph, which means the accounts are probably fake. Also, they don't really provide any details of how they were helped and are just praising the company. It appears to be spam posting and you shouldn't make your decision based on such reviews.
Unprofessional FAQ section
At first glance, the website of Action Refund may come off as a good one and it seems well-designed, just like any professional website should be. Nonetheless, a close study reveals that things are not what they appear to be. If you check out their FAQ section where they have provided answers to frequently asked questions, you will come across a multitude of spelling mistakes.
If you have ever read tips for identifying online scams, you will be told that such spelling and grammatical errors on the website should be considered a red flag. The fact is that a professional website will never have such errors, especially one that claims to take up serious issues of investigation. A company that's taking on the task of getting funds back for their clients wouldn't practice poor formatting when it comes to their website.
No detail about employees
Take a look at the websites of genuine and authentic companies that are providing their services online. They all have one thing in common; these companies provide some information regarding its team and employees. The purpose is to reassure customers that their work is done by professionals and experienced individuals. However, no such thing can be found on Action Refund's website. With the kind of service they are providing, it is even more important for them to mention something about their staff's capability. Yet, they have done nothing of the sort and this only increases the demerits of the company and gives people another reason to not trust it.
Another worrisome fact about Action Refund is that the company seems to have two domain names. These are www.actionrefund.com and www.actionrefund-ltd.com. Why does the company need two domain names? Again, there is no explanation provided and the existence of these domain names means that there is no guarantee of authenticity. Are you willing to share your personal information with a company like that? It is best to steer clear of them.
Upon checking the company's website, you will come across the amounts that Action Refund claims to have recovered on behalf of its clients from different kinds of scams. But, the problem is that they have not shared any client names, along with the amounts. They do not have any references of clients for whom they retrieved the money and this is a red flag because mentioning client names would substantiate their claims and yet they have not made an effort to do so. Any legitimate company would certainly mention the names of the clients, along with the amount recovered for them, but Action Refund has done no such thing.
Final Thoughts
Just like online scams and frauds seem to be on the rise, the number of companies and websites claiming to provide assistance in dealing with these scams are also increasing rapidly. But, the fact remains that these companies are not exactly reliable and you should not take them at their word. Action Refund is one such website that makes big claims, but doesn't seem to be an authentic one as it is unable to provide any proof of its legitimacy.