AUD/USD Analysis: Pull back to 0.7280 Zones Might Create New Bid Towards 5-Month High

More Pressure on the Pair
The AUD/USD trading pair has seen a significant level of selling pressure close to 0.7440 following a good run-up in the course of the previous trading sessions. Nevertheless, the observed selling pressure looks a lot more like a correctional pullback than a reversal, and it is very likely to return to rallying more going forward.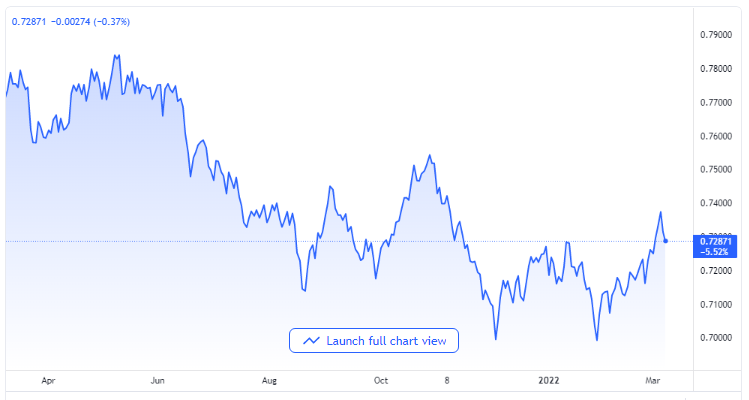 AUD/USD price chart. Source TradingView
From the perspective of an hourly scale, the AUD/USD currency pair has been able to rally decisively following the breakout of the ascending triangle that it gives. Typically, an ascending triangle goes to indicate a consolidation activity that has a bullish tone and a breakout of similar kinds of results in expanding volumes, up-side rally, and broader ticks.
The pair is drawing back to the breakout zone, which oscillates within the range of 0.07280 to 0.7289. Following the corrective pullbacks, the Australian dollar might get some measure of significant bids, and it will return to rallying again.
Some Important Data to Note
The 200-day Exponential Moving Average (EMA) is trading on Tuesday close to the 0.7290 zone, and it acted as the primary support for the strong pair.
On the other hand, the Relative Strength Index has dropped under 40.00 after hovering between the ranges of 40.00 to 60.00, which suggests a trigger for fragility following just a brief time of consolidation. In order to give validation to the bullish reversal, the Relative Strength Index might need a reversal again to the 40.00 to 60.00 range all the way from the initial bearish range of 20.00 to 40.00.
The AUD/USD pair is speculated to get bids when its pullback is finalized close to the breakout zones at 0.7280 to 0.7289. A successful breakout zone test will take the currency pair close to the average price traded on Monday at 0.7378. If there is a breach in the latter, it will go a long way to boost the asset in the direction of Monday's high level at 0.7427.
On the flip side, it looks like bears are in a position to dictate the direction of the pair if it happens to drop below the levels of the 1st of March at 0.7237. Further violations in the 1st of March low will then drag the troubled pair in the direction of the 27th of February low points at 0.7160 and that of the 24th of February at 0.7094.