EUR/USD Declines to a Month's Low Close to 1.1200 as Russia Begins War with Ukraine
EUR/USD trading pair bears have gone for the 1.1200 levels, down by 0.75% intraday close to 1.1210 as Russia's troops have begun their part in shaking up the global financial market, as has been predicted by Western countries. The conflict between Russia and Ukraine has pushed up safe-havens and the price of crude oil in the early hours of the European trading session on Thursday.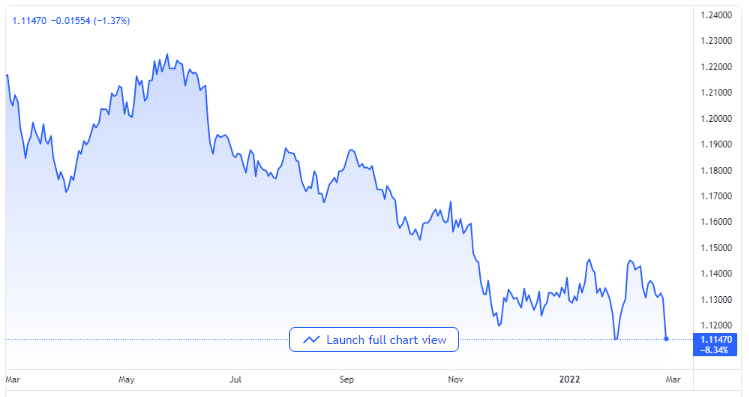 EUR/USD price chart. Source TradingView
That said, the most recent information from the Ukrainian Interior Ministry report that Kyiv has been under attack from ballistic and cruise missiles shot in by Russian forces.
The Media and Power Brokers 
CNN earlier on Thursday marked multiple sites where explosions took place, and the North Atlantic Treaty Organization officially confirmed that there had been heavy Russian military presence and action in Ukraine.
Responding to Russia's military incursion with strong words, the US President, Joe Biden, has said that there will be consequences for Russia with more severe sanctions, while Senator Marco Rubio, who serves as the Vice-Chair of the Select Committee on Intelligence, has said revealed that there was Russian attempt to take control of Kyiv's airport.
As the risk aversions keep increasing, the American ten-year Treasury bonds yield broke a two-day rebound when it declined around 9 bps to 1.88%, while the S&P 500 futures dipped more than 2.0% at the time of putting this together. The US dollar index, on the other hand, rose by 0.50% in the intraday as a result of its safe-haven status.
It should also be noted that comments from Mary Daly, the San Fransisco Federal Reserve President, also pushed the US dollar forward amid the possibility of a faster Federal interest rate increase. The Federal Reserve policymaker pointed at the need for more urgency on an interest rate increase in her recent speech.
Interest Rate Increase is Still a Valid Tool
A Governing Board member of the European Central Bank, Robert Holzmann, said on Wednesday during an interview that there is a possibility that the ECB will increase interest rates before it ends bond buying. On the ground stood ECB policymaker Bostjan Vasle. But another Board Member of the ECB, Villeroy de Galhau, said on Wednesday that the bank would assess the less direct consequence of Ukraine's crisis on the Eurozone's inflation and economic growth in March. He added that the bank's decision would be driven by facts.
That said, market actors will watch out for risk catalysts; however, the second reading of the American Quarter 4 GDP that is expected to be at 7.0% annual as against the previous 6.9% will also be carefully watched.