USD/JPY Got a Rally to Its Highest Point in Seven Years, Near Mid-125.00 Levels

First a Drop, Then a Rise
The USD/JPY currency pair had a great opening of the week as it scaled higher again through the course of the early hours of the European session as it sprouted to the highest point it has seen since as far back as June of 2015. This was around the region of 125.40 to 125.45 early on Monday.
After an initial drop the pair first encountered to the mark of 124.00, the USD/JPY currency pair attracted a new set of bids as markets opened for business in the new week, and the pair was boosted by a coming together of several factors.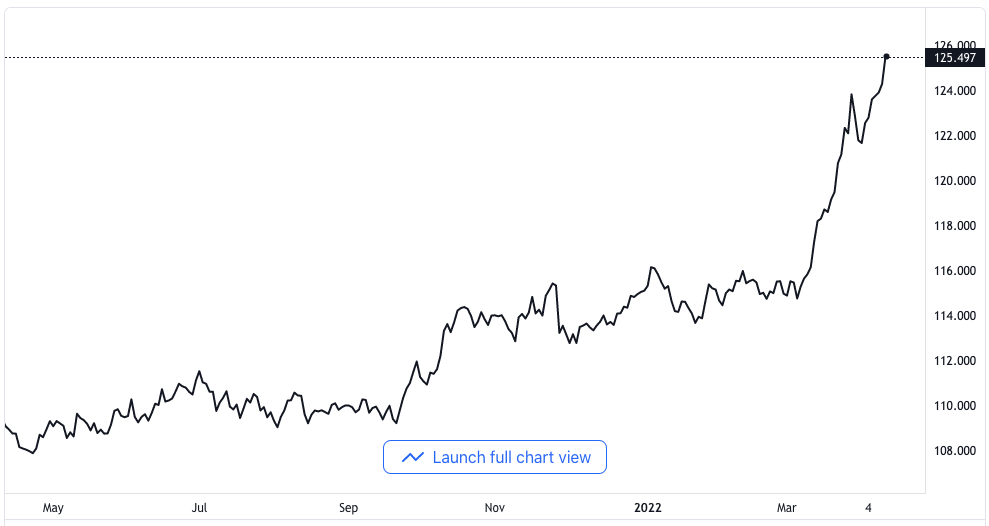 USD/JPY price chart. Source TradingView
The originally planned assessment of the economies of regions in Japan was cut off while the bank's Governor Haruhiko Kuroda cautioned that there would be high instability as a result of economic fallouts arising from the war in Ukraine. In addition to that, the increasing divergence between the US government bond yields and the Japanese government bond yields diverted funds from the Japanese yen but was favorable to the US dollar as it had continuous purchases, as well as being a tailwind to the price of spot.
New Highs for the Treasury Bond Yields
The market now looks absolutely convinced that the Federal Reserve is going to implement a tighter monetary policy, even at a more rapid rate, as a means of fighting the obstinate inflation rates. This realization, as well as the latest experience of skyrocketing the price of various essential commodities, are speculated to apply more upward pressure on the price of consumer goods that are already on the high side. This helped the Treasury bond yield of the United States to reach new multi-year high levels.
The various price actions helped the US dollar to stand firm close to its highest point since last May. On the other side, the expected upside of the government bond in Japan was limited by caution surrounding the Bank of Japan's intervention plan to defend the 0.25% bond yields target.
Aside from the reasons that have been stated above, the sharp increase observed in the latter part of trading could be associated with technical purchases over the 125.00 psychological benchmarks. A follow-up move over the initial year-to-date high at 125.10 could also be taken as a new impetus for bulls, and it might as well have got the stage ready for more gains to come.