USD/JPY Follows Nikkei's Highest Jump Since 2020 to Reach 116.00, US Inflation, Ukraine in View

Steady Rising as Expected
The USD/JPY currency pair rose for the fourth day in a row as it printed the highest point in a month in the vicinity of 116.00 in the course of the first hours of the Tokyo open on Thursday. By so doing, the Japanese yen pair mirrored the positive impulse of the market while there are hopes of reaching a ceasefire deal between Russia and Ukraine in the latest round of peace negotiations in Ankara, Turkey.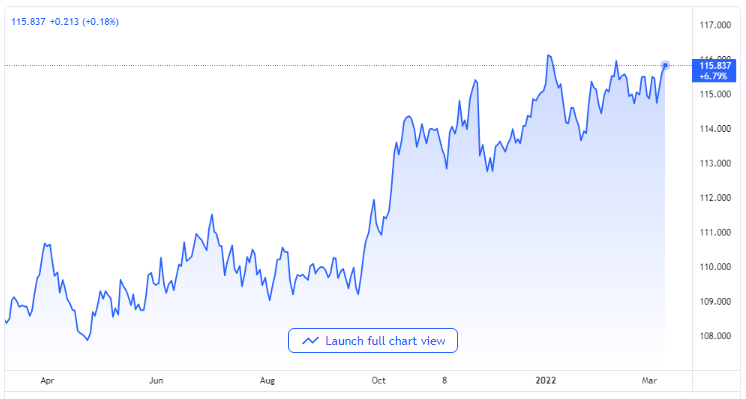 USD/JPY price chart. Source TradingView
Another factor that favored the USD/JPY currency pair price is the increase in Japan's stock benchmark, Nikkei 225. With that, the primary stock gauge in Tokyo's market broke through the four-day downward streak to have a rebound from its lowest point last seen in November 2020, going up by 3.5% around some 25,560 as of press time.
While there was the foregoing on the one hand, the American ten-year Treasury bond yield stepped back a bit while the S&P 500 futures equally failed to follow up on the Wall Street gain. 
Moreover, there was a 9.3% year-on-year print in the Japanese producers' price index for the month of February against 8.7% speculated and 8.6% initially. This data also went a long way to favor the USD/JPY pair and its bullish traders.
After the release of the factory gate inflation, an unknown Bank of Japan official told reporters that more increase in crude oil price and gains might boost Japan's wholesale costs by several months.
News that Ukraine is willing to compromise if Russia is also willing helped to heighten the market's mood on Wednesday to the early hours of Thursday. But Russia's state media outlets are reporting that Russia's delegates to the peace negotiations in Ankara will not be conceding any terms. The United States goes ahead to accuse Russia of using both biological and chemical weapons in Ukraine.
US Reports
In the United States, however, the inflation expectation has retracted from record heights and tickled hawkish traders as the market maintained a divided position following the Federal Reserve's 50 basis points increase in interest rates later this March.
The inflationary measurement for the ten-year break-even inflation period from the St. Louis Federal Reserve record, the new record, increased to 2.9% before it dropped to 2.84% by the close of trading on Wednesday's North American session.
Aside from the Russian and Ukraine peace talk, the consumer price index for February is also expected, and it is possible for it to increase from 7.5% to 7.9%. The ECB's meeting will also be another significant influence on the USD/JPY pair.