GBP/USD Bounces Back from 1.3320 with Ease in Ukraine Nuclear Fears

An Attempt at Crucial Gains
The GBP/USD trading pair tried to make some significant gains as it attracted offers from market players, but it declined close to the 1.3316 zones in the midst of the Russian bombardment on the largest nuclear power plant in Ukraine. The news created a general sell-off of the risk-sensitive assets while investors were considering it as a more aggressive escalation phase of the ongoing war. However, news that there is no nuclear radiation has triggered a follow-through buying which was observed in the early hours of Friday, and the pair are aiming to pull a resistance at 1.3350.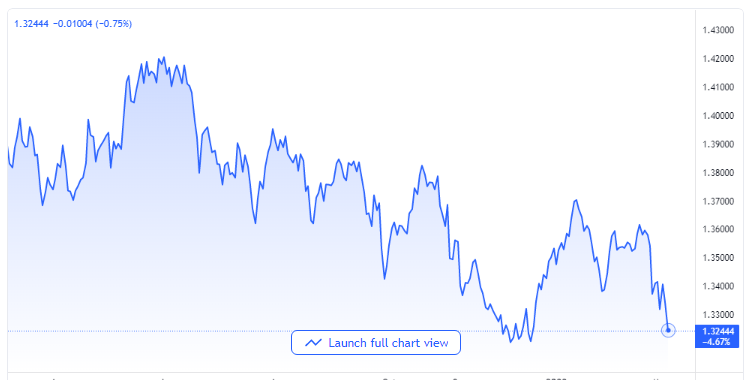 GBP/USD price chart. Source TradingView
Earlier, though, Ukrainian government officials warned of possible detection of increased radiation levels close to the side of the power plant. There was fierce fighting between Russian forces and Ukrainians, which eventually resulted in casualties, according to Dmytro Orlov, the Mayor of Energodar. More than that, Orlov has cited the bombing of the Zaporizhzhia nuclear power plant as a direct threat to global security because of the impact a nuclear blast would have on the environment. 
To Fear or Not to Fear?
The International Atomic Agency later reported that the Ukrainian nuclear regulators told the International Atomic Agency that there had been no changes in radiation levels reported at the Zaporizhzhia nuclear power plant site. The news helped the pair to recover losses early incurred and reclaim some lost grounds.
Meanwhile, the GBP/USD pair has got some balance in the realm of 1.3273 to 1.3437 as far as the 24th of February after it suffered a sharp fall in the absence of any trigger that might underpin the British pound against the giant US dollar. 
The US dollar index is hoping to regain 98.00 with the rate of rising uncertainties in the Eastern European political crisis. The recently upbeat American Initial Jobless Claims might also give more strength to the dollar index further.
As things stand, the increased uncertainty has eased off just a little bit, but the risk-aversion sentiment is expected to be the picture of the general market position. Going forward, further developments about the bombardment of Ukraine's nuclear power plant station is going to inevitably keep investors and the entire market busy. Aside from that, investors are also expected to give attention to the coming American Non-farm Payrolls report due at the end of the week.