EUR/GBP under Immense Pressure as Ukraine Crisis Intensifies

Russia and Ukraine Having Effects beyond their Region
The EUR/GBP trading pair stated the new week on a low note as it was caught up in the risk-off flows in the London open, where the safe-haven fiat currencies make some gains after the latest rounds of headlines about the Russian invasion of Ukraine.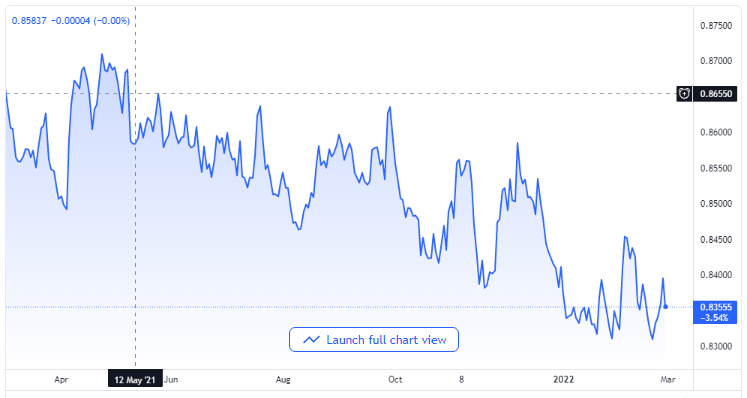 EUR/GBP price chart. Source TradingView
Ukrainian cities were hit by multiple missiles once again over the weekend as Russian troops marched further into the country. Moves by Western power brokers to pull off some Russian banks from the SWIFT global payment platform and the freezing of the Bank of Russia's foreign reserve has caused Russia's President, Vladimir Putin, to give an order of nuclear readiness to the Russian military. Russian state media, TASS, has quoted the Russian President saying that top officers in NATO leading nations are making aggressive comments against Russia. This is said to be the main reason for the nuclear readiness order.
Meanwhile, there has been confirmation from Ukraine's President, Volodymyr Zelensky, to Sky News stating that the two countries are getting set to hold peace talks at the Ukraine-Belarus border where some Russian troops are now invading Ukraine had been previously held.
Policymakers Set to Speak
A Bank of England's policymaker, Catherine Mann, had said in the past week that it was the high expectations on an inflation rate that caused her to vote for a 50 bps increase in interest rates early in the month. The Bank of England's Governor, Andrew Bailey, has equally revealed to lawmakers that he sees risks and the possibility that inflation might surpass the bank's initial predictions, but he, however, urged traders and investors not to be distracted by the possible scale of interest rate hikes.
It has been observed that investors are pricing in a new 25 bps interest rate hike at the next meeting of the central bank scheduled for 17th of March, and another interest rate hike has been fully priced in against the next meeting after March, which is scheduled for May.
More statements are expected from leading central bank officials later in the week. The Bank of England's Cunliffe, Tenryro, Mann, and Saunders are all expected to give statements on pertinent issues. The European Central Bank's February meeting minute might also shed some light on the obvious disconnection between the presser and the policy statement.
Last week, the EUR/GBP trading pair was trading at a loss which indicated further downsides, but for the time being, it provided a pullback in the direction of the upper trend line followed closely by a necessary downward glide.