EUR/USD Witnesses a Bounce Over 1.0700 As It Expects Durable Goods Report from the US

Strong US Dollar Getting the Attention
The EUR/USD currency pair has shown a little but significant bounce following a drop that was close to the psychological support line of 1.0700 in the course of the Asian session.
The pair has had a series of falls during a number of trading sessions in the midst of renewed concerns of possible stagnant inflation in the Eurozone and the likelihood of a strong US dollar getting on progressive chances of a huge increase in interest rates from the stables of the Federal Reserve coming in the Month of May.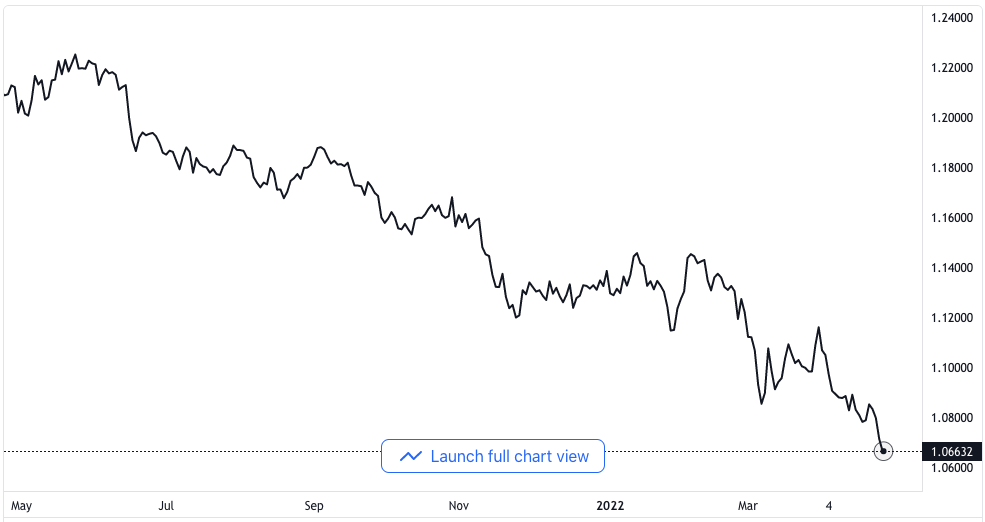 EUR/USD price chart. Source TradingView
The clues given by the statement of the European Central Bank's President, Christine Lagarde, have gone ahead to clear the air that the interest rate increase expected from the European Central Bank is still a bit far off in the future. Lagarde said that interest rate increases could only come after the Asset Purchase Program has been concluded.
The Asset Purchase Program will, however, be concluded in the third quarter of the year. Investors and the general market in the Eurozone and beyond should then get ready for interest rate increases towards the end of the year.
Not Really a Good Forecast
Aside from that, the European Central Bank is seeing a good slash in the forecast of economic growth along with the increasing inflation figures this year. The crisis in Ukraine has caused complications for the European Central Bank, and it has not been able to closely tow the path of other leaders in the West.
Meanwhile, the US dollar index has seen a little bit of sell-off from its latest high point, which stood at 101.86. The speech from the Chairman of the Federal Reserve, Jerome Powell, as well as other top officials of the US Federal Reserve, is giving signs that the Federal Reserve is going to revert to neutral rates at a much faster pace. 
What seems next to be confirmed is an interest rate increment by 50 basis points in the month of May, although the Federal Reserve Chair has mentioned that the possibility for it remains firmly on the table. At least, there is one major jumbo interest rate increase coming very soon.
This is expected to continue adding more value to the US dollar as a safe-haven commodity against the Euro, which is having much instability due to several factors, including geopolitics.