AUD/USD Moves Towards 0.7300 on Strong Market Sentiments, Overlooks Local Emergency

No Reckless Optimism Now
The AUD/USD currency pair mirrored the market's careful mood in the midst of its optimism in spite of the downward catalysts back home as it looked prepared for the European session on Wednesday. The Australian-focused pair printed its first gain on the day in three days which went up by 0.15% intraday in the vicinity of 0.7280.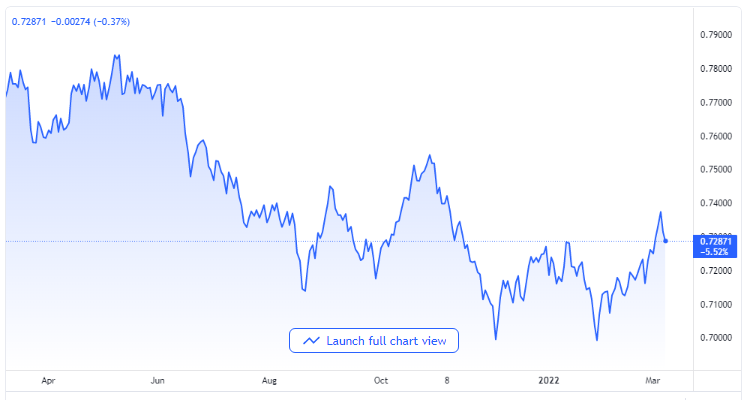 AUD/USD price chart. Source TradingView
The announcement by Ukraine that it was withdrawing its application to be a member of the North Atlantic Treaty Organization (NATO) and the opening up of the first humanitarian corridor to get aid into Kyiv are the catalysts that helped to change the initial risk-off condition in the market. Venezuela's release of an American detainee and the American announcement to ease sanctions placed on the country equally added to the positive sentiment in the market and the price of the AUD/USD pair.
Furthermore, there are doubts about Ukraine's plans to go ahead with its bid to join the European Union and Russia's plans to nationalize all foreign companies and factories that closed their operations in Russia. This adds to the challenge of the market sentiments and a test of the AUD/USD currency pair.
Australian media have reported that PM Scott Morrison declared a national emergency to address the devastating flooding in northern New South Wales.
Against this background, the American ten-year Treasury bond yields slid by 2bps to 1.85%; meanwhile, the S&P 500 futures continue to be firm on the day. It is worth noting that China's increased inflation figures and a decline in the Reserve Bank of Australia Governor's dovish statements equally underpinned the latest rebound the AUD/USD pair has seen.
That said, traders of the pair are set to keep their eyes on risk catalysts as they also wait for statements from the Reserve Bank of Australia Deputy Governor Guy Debelle later on Wednesday. It is expected that if Debelle is on the same page with the reserve Governor, Philip Lowe, to increase interest rates in the course of this year, then the AUD/USD pair will gain another ground to begin to rise.
Professional Analysis
In spite of the AUD/USD pair's most recent rebound, the 200-period Daily Moving Average level of 0.7317 has restricted the instant increase of the quote. Whereas, there may be pullback moves that may aim for the 100-period Daily Moving Average and the 50-period Daily Moving Average both in the vicinity of 0.7230 and 0.7190, respectively.