Ripple Unlocks Another Batch of 1,000,000,000 XRP From Escrow On First Day of July
Though the price value of Ripple's XRP is not performing great, the San Francisco-based blockchain company continues to follow its tradition of unlocking one billion XRP coins on the first day of each month as the company has just unlocked the massive amount of 1,000,000,000 from its escrow wallet on the first day of July reported by the Twitter bot Whale Alert.
Ripple unlocks one billion in two transactions
In order to withdraw this enormous amount of XRP tokens from escrow, the company has made two transactions consecutively. According to the report from Whale Alert, Ripple has released one billion XRP coins from escrow in two massive transactions. Each transaction consisted of 500,000,000 XRP tokens.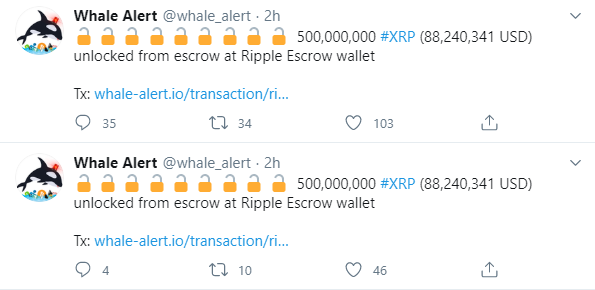 Image created via Twitter
The total amount of XRP coins unlocked from the wallet is worth over $177 million cumulatively.
Ripple's price drops to $0.17
This scheduled release of coins from Ripple has not affected the price value of XRP so far as the fourth-ranked digital currency has posted lows again. XRP price has plummeted down to the $0.17 level which is not a good sign for the coin as it is attempting to come out of its macro downtrend where it is trapped for over 901 days.
Before dropping to $0.17 zone, Ripple's XRP was strongly holding at the $0.18 from where it was expected to start a short-term bullish rally but it couldn't do so as usual and fell again. The coin is caught up in the $0.17-$0.18 zone for a longer period of time. As the price of the token is trading stable in this area, therefore, it is becoming difficult for XRP to initiate a bullish rally. XRP has to break above to the $0.19 level which may then set the upward direction for the coin as a result. Currently, the price of XRP is trading at….
The price-performance of Ripple's XRP is not good in the present year as its price is down 8 percent as compared to other coins despite the fact that its sales decreased by $1.75 in the first quarter of 2020.